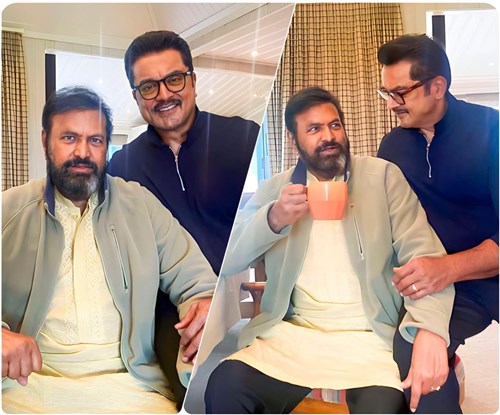 'Kannappa' unquestionably stands as one of the most highly anticipated films in the Indian cinematic realm, and the reasons behind this excitement are abundantly clear. After the grand announcement of Prabhas, Mohanlal, and Shiva Rajkumar, Kannappa gets two more additions to the stellar cast in the name of iconic superstars, 'Pedarayudu' Padmashri Dr.Mohan Babu Garu and 'Nattamai' Shri Sarath Kumar Garu.
The movie features an ensemble cast that truly exemplifies star power, and the notable additions to this constellation are the esteemed actors Mohan Babu and Sarath Kumar, who are well recognised and celebrated in the realm of south cinema.
Sarath Kumar is a versatile actor who has seamlessly transitioned between the roles of a leading hero and a character actor. With a career spanning decade, he has left an indelible mark on the Indian film industry. His impressive filmography, with notable successes in movies like 'Bunny,' 'Bharat Ane Nenu,' 'Jaya Janaki Nayaka,' and 'Bhagavanth Kesari,' in Telugu elevates the anticipation surrounding 'Kannappa.'
On the other hand, Mohan Babu has four decades of experience as an actor, and he has been enthralling the audience with a wide variety of characters.
The two legends- Mohan Babu and Sarath Kumar unite for 'Kannappa' in New Zealand, adding their immense star power to this highly anticipated Indian cinematic extravaganza. Get ready for a legendary tale of devotion and grandeur.
The story of 'Kannappa' revolves around the legendary warrior Kannappa, one of the greatest devotees of Lord Shiva. His extraordinary acts of devotion, have been celebrated for centuries. The film was announced at the Srikalahasteeswara temple as it holds an important place in the film's narrative.
Helmed by the acclaimed director Mukesh Kumar Singh, renowned for his work on the Mahabharat series, 'Kannappa' is set to be a cinematic milestone. With a perfect blend of star power, compelling storytelling, and breathtaking visuals, 'Kannappa' is positioned to make a significant impact in the history of Indian cinema.