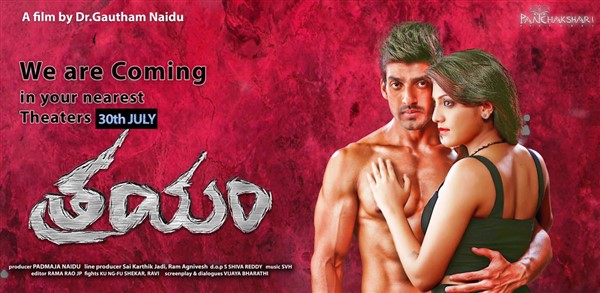 Film: Trayam
Cast;Vishnu Reddy, Heroine Sanjana,  Abhiram, Ashok Chandanani, Jackie, Subbaraya Sharma and Koteswara Rao and some others
Story-Direction: Dr. Gautham Naidu.
Executive Producer: Rajesh Vaka; Producer: Padamaja Vijay Bharathi
Music: SVH;
Editor: Ramarao JP;
Screenplay-Dialogues: Vijay Bharathi;
Lyrics: Naga Babu, Rambantla Siva and Rambantla Srikanth;
Fights: Kung-Fu Sekhar and Y Ravi;
moviemanthra.com.Rating: 3/5
Many films with a triangle love stories met with success at the box office. Now, targeting youth audiences, a new film Trayam released at the box office with a triangle love story. The film released recently and check out the film's review here.
Story:
Raghu (Vishnu Reddy and Nandu (Vilain) get into fight all the time. Raghu falls for heroine Sruthi. Because of Raghu's attitude and his fights, Sruthi leaves him. Raghu's close friend Raju tries to unite Raghu with Sruthi again. But Sruthi loves Raju because of an incident. Raghu still have feelings for Sruthi but she loves Raju. What happens in the end in this triangular love story? forms the film's story.
Performances:
As student leader in a college, Vishu Reddy played his part Raghu very well. Along with Nandu, he displayed a great performance. Both the actors performed the action scenes well. The climax scene is impressive too. Heroine Sruthi looks good and glamorous. She performed well and her scenes with Raju's character are nce. Raju's performance towards the end is good. The rest of the cast made their presence felt.
Technical Aspects:
The story and screenplay are convincing. The scenes that come in the college backdrop, especially the action scenes are impressive. Without any boredom, the scenes appeal the audiences. The music is impressive and so is the background score. The cinematography looks rich and the editing needs to be gripping. The production values are lavish. The team worked so hard to pull off a successful output.
Review:
Picking up a triangular love story for the film is an interesting element for the film. The first half passes off with a good love story. The mains tory begins only in the second half. The action episodes are a highlight for the film and the director has taken ample care for the same. The placement of the characters, especially that of Raju is interesting. It creates a gap between the main leads. The scenes are written nicely and the screenplay is convincing. The action episode that comes in the film's climax is good too. The youth will heavily attract to the film.The dialogues are impressive. On the whole, the film has a good love story that will impress one and all.
Plus Points:
Performances
Camera Work
Story
Screenplay
Minus Points:
Few lags in second half
Slow start
Punch Line: Interesting Triangular Love Story