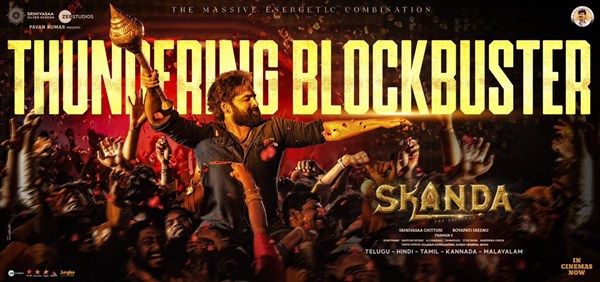 Film: Skanda
Release Date: September 28, 2023
Starring: Ram Pothineni, Sreeleela, Saiee Manjrekar, Prince Cecil, Gautami, Indraja, Raja, Srikanth, Sharath Lohitashwa, Prithviraj, and others
Director: Boyapati Sreenu
Producer: Srinivasaa Chitturi
Music Director: S Thaman
Cinematographer: Santosh Detake
Editor: Bikkina Thammiraju
www.moviemanthra.com Rating: 3/5
Skanda marks the debut collaboration between Ram Pothineni and the renowned mass director Boyapati Sreenu. This film had been generating substantial anticipation prior to its long-awaited release in theaters today. Join us for a comprehensive review of what Skanda has to offer.
Story:
In Skanda, we witness the high-stakes drama surrounding the elopement of Telangana CM Ranjith Reddy's son with the daughter of Andhra Pradesh CM Rayudu. The irate Rayudu seeks vengeance, but the arrival of Bhaskar Raju, portrayed by Ram Pothineni, introduces a twist to the tale. Who exactly is Bhaskar Raju, and what drives him? Why has he targeted both CMs, and what ties him to Rudraganti Ramakrishna Raju, portrayed by Srikanth? All these intriguing questions find answers in this movie.
Performances:
Ram Pothineni's remarkable transformation for his role deserves acclaim. His portrayal in beast mode, particularly during action sequences, is extraordinary. His impeccable dialogue and imposing presence add depth to the scenes. Sreeleela, although not exceptionally striking as the heroine, showcases her talent, captivating audiences with her captivating beauty and dance prowess. Srikanth is given a substantial role, and while his screen time is limited, the entire narrative pivots around his character. Daggubati Raju also delivers a commendable performance.
Technical Aspects:
Boyapati Sreenu returns with a mass-oriented entertainer that leans heavily on action rather than emotion. M Ratnam's dialogues, while serviceable, occasionally deliver spine-tingling moments. Thaman earns accolades for his exceptional musical score, elevating numerous scenes. Thaman's background score, especially in the first half, exudes energy and amplifies many scenes. Santosh Detake's cinematography is of top-notch quality, particularly during the action sequences. Editing is adequate, but trimming unnecessary scenes in the second half could have contributed to better pacing. The production values are commendable.
Plus Points:
Performances
Action Sequences
Dialogues
BGM
Direction
Production Values
Minus Points:
Few overboard scenes
Verdict:
While the action sequences are thrilling and provide an adrenaline rush, there may be moments when viewers question the plausibility of certain events. The storyline predominantly treads familiar territory, an area Boyapati Sreenu should consider revitalizing. Apart from crafting electrifying dialogues that send shivers down the audience's spine and choreographing action sequences that elicit cheers, more attention to a gripping plot is warranted. The emotional depth in the second half is decent. While ardent fans and the masses will revel in this high-voltage entertainer, its straightforward storyline, implausible action, and somewhat lethargic second half may not resonate. But, it is a paisa vasool mass actioner.
Punch Line: Pakka Commercial Mass Actioner