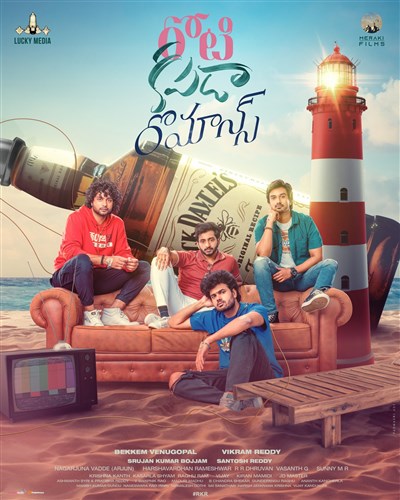 The first look poster of 'Roti Kapda Romance' was released today. A thorough entertainer produced by Bekkem Venugopal, the film comes from the consistently successful production house Lucky Media of 'Hushaaru', 'Cinema Choopistha Mama', 'Mem Vayasuku Vaccham', 'Prema Ishq Kadhal' and 'Paagal' fame.
In the poster, we see four urbane youngsters (played by Harsha Narra, Sandeep Saroj, Tarun, Supraj Ranga) clad in trendy attire and wearing varied expressions on their faces. Their laid-back body language suggests that they are going through the same phase in their lives. We can expect some of the elements associated with coming-of-age dramas as well, maybe!
Starring Sonu Thakur, Nuveksha, Megha Lekha, and Khushboo Chaudhary in other leading roles, the youthful entertainer is directed by Vikram Reddy. Producer Bekkem Venugopal recently stated that the film is a pure romantic entertainer replete with all kinds of emotions.
Director Vikram Reddy feels that today's youth will stay connected to the film.
Cast:
Harsha Narra, Sandeep Saroj, Tarun, Supraj Ranga, Sonu Thakur, Nuveksha, Megha Lekha, Khushboo Chaudhary and others.
Crew:
Cinematographer: Santhosh Reddy; Music Director: Harshavardhan Rameshwar, RR Dhruvan, Vasanth G; Lyricists: Krishna Kanth, Kasarla Shyam, Raghuram; Editor: Vijayvardhan; Art Director: Kiran Mamidi: Dance Choreography: JD Master; Costume Designers: Ashwanth Bhairi, Pratibha Reddy; Associate Producer: Nagarjuna Vadde; Producers: Bekkem Venugopal, Srujan Kumar Bojjam; Story, Screenplay, Direction: Vikram Reddy.