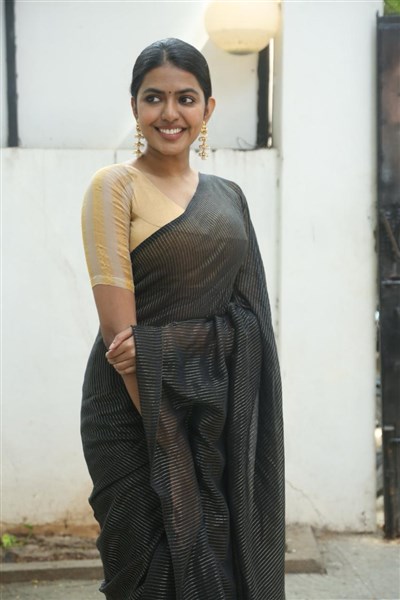 GA 2 Pictures is planning to release 'Kota Bommali PS' in a grand way in theatres on November 24. Teja Marni has wielded the megaphone. Produced by Bunny Vass and Vidya Koppineedi, the film stars Shivani Rajashekar in a performance-oriented role.
In this interview, the young actress talks about the film that co-stars Srikanth, Varalaxmi Sarathkumar, Rahul Vijay, Murali Sharma and others. The political survival thriller is soulful and treats every character in a wholesome fashion, she says.
Highlights from Shivani's interview:
When the film came my way, I hadn't watched the Malayalam original 'Nayattu'. I was advised not to watch it to avoid being influenced. I was told suitable changes have been made in tune with Telugu nativity, as this is an adaptation. 'Kota Bommali PS' has been made to feel like an original movie. Except for the core plot, the entire film is different from 'Nayattu'.
I play a constable in the film. My father (Dr. Rajashekar) has done a lot of cop roles. And a few elders in our family were cops. It was fun taking a few suggestions from my dad regarding my look. My father always advises me to live in the moment and be involved in the character. He expects me to behave like the character and not act. I don't rehearse. I don't want to become conscious. I imbibed this quality from my father. This technique has served me well thus far.
Srikanth garu is like a family friend, given my father has known him for many years. Even though he is a senior actor, he never tried to dominate us. He is a jovial person who cracks jokes and gets along with others with ease. Rahul Vijay and I got to learn so much from him.
Director Teja Marni conveyed to me the shooting part would be hard. I needed to walk barefoot and shoot under trying conditions. I was game for it. As an artist, I am supposed to work hard and that's my brief.
I played a tribal girl in the Tamil film 'Nenjuku Needhi'. My skin tone was dull in that film. In 'Kota Bommali PS', I haven't donned make-up. My skin looks tanned. I was more than happy to get into the zone. As the shoot advanced, my confidence in the film only multiplied. The dialogue and treatment excited me. The Srikakulam slang was not that hard to imbibe. The work experience was so nice!
Every artist dreams of being part of a viral song. I am glad I am part of the chartbuster, 'Lingi Lingi Lingidi' (garnered more than 30 million views). The song's blockbuster success has made our film itself popular. I thank composer Midhun on this occasion.
The trend is slowly undergoing a shift in Telugu. These days, more than the concept of 'hero' and 'heroine', people are seeing artists as characters/actors. Actors are being celebrated for their talent.