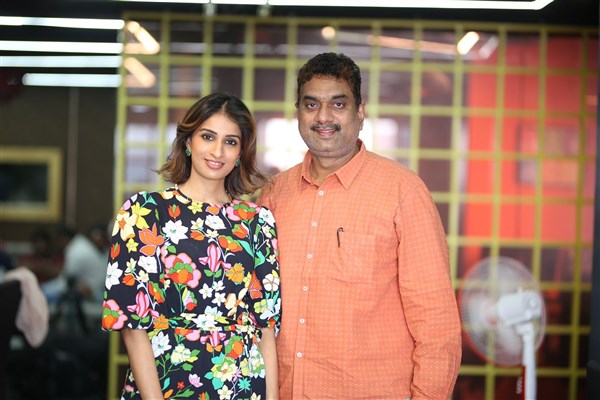 'Mangalavaaram' marks the debut of Swathi Reddy Gunupati as a producer. Swathi is the daughter of prominent industrialist Nimmagadda Prasad. She has produced the film in collaboration with Suresh Varma M on Mudhra Media Works. The duo is joined by Ajay Bhupathi on A Creative Works. Payal Rajput, 'Rangam' fame Ajmal Amir, Nandita Swetha, Sritej, and Shravan Reddy play major roles in this thriller set to be released in theatres on November 17 in Telugu, Tamil, Hindi, Kannada and Malayalam.
The producers today interacted with the media about the film:
Swathi garu, your family has been in the entertainment industry for 30 years. Why did you enter the field of cinema this late?
Swathi Reddy Gunupati: I don't think that way. We waited for the perfect time. I have been interested in movies since childhood. I have always been curious about the way so many people join hands to bring out a product. Many people struggle and go through a lot because they are wedded to one idea. I have known my fellow producer, Suresh Varma, for many years. When he was with us at Maa TV, I told him I wanted to produce a film. He also said that he wants to produce a film. He is senior to me in the industry. We was willing to join forces. This movie turned out better than we expected it to.
Why did you become a producer only with 'Mangalavaaram'? Have you heard any stories before this?
Suresh Varma: I listened to two or three stories before 'Mangalavaaram' happened. Ajay Bhupathi told me the story of 'Mangalavaaram' during the making of 'RX 100' itself. I found it very exciting. Ajay wanted to do something on his own banner. Meanwhile, I told some producers that Ajay had a good story. When Swathi was given a narration, she got interested.
Swathi Reddy: Although I listened to some stories, 'Mangalavaaram' is the one that really made me want to produce. Everything is destiny!
Did you get more confidence after Allu Arjun listened to the story and gave positive feedback?
Swathi Reddy: I always had the confidence. But Allu Arjun's feedback gave me the courage to do the film. He told me it would be good if I partnered with some other producer. Suresh Varma also had the same dream, so we started film production together.
When did your bonding with Bunny start?
Swathi: It started many years ago. We have been friends since before the Maa TV days. There has been a bonding between our families. We also became friends during my college days. Something funny happened when I was in college. Our HoD put forth a condition that Allu Arjun should be the chief guest for a cultural event. I requested my father to convey the same to Aravind uncle. At that time, Bunny came to the fest at our college in Bangalore. Since then we have become very close. I am close to Bunny's wife Sneha as well. My husband and Sneha were schoolmates.
Given your background, you could have chosen to work with big stars. Why then did you make a film like 'Mangalavaaram'
Swathi: While taking early steps as a producer, I thought it would be better to do a small film than to invite a lot of pressure. I want to make a film giving importance to the story. The response to 'Mangalavaram' has been fab.
*With dark thrillers, you don't know the output. On the other hand, a commercial film or a love story is easy. Isn't it?
Swathi: I love watching comedy films and entertainers more than thrillers. However, after listening to Ajay Bhupathi's narration, I was blown away. I liked the way the message was conveyed. It has music, emotions, message and other elements.
Suresh Varma: Despite being a dark thriller, this movie has all the emotions. We didn't want to make a regular film. That is one of the reasons for making this film! Every character is important.
Whose idea was it to come up with the face mask on the poster?
Suresh Varma: It was Ajay Bhupathi's idea. He conceived the story before 'Kantara'. After making many sketches, we finally zeroed in on the best mask. Not only direction, he handled a number of other responsibilities as well. So, there was no pressure on us. We started shooting after the bound script was ready. We later did a few minor improvisations.
Swathi: We gave freedom to Ajay Bhupathi. We took more time for pre-production.
Did you get any advice from Allu Arjun?
Swathi: I spoke with him over the phone. He liked 'RX 100'. It was a cult film. He liked the directorial sense in 'Maha Samudram' as well. He is very positive about 'Maha Samudram'.
When are you showing him the movie?
Swathi: Allu Arjun is busy shooting for 'Pushpa 2'. He graced the pre-release event.
Things you learned while making 'Mangalavaaram'?
Swathi: I am lucky that we got to work with a nice team. I learned a lot from Ajay Bhupathi's way of looking at anything in life. We loved the working style of music director Ajaneesh Loknath. I saw him working on the film with mad love.
Would you make films regardless of success?
Swathi: I will, definitely. Apart from cinema, many other businesses have been handled by me. We established a pizza brand. We started one kids center and one semi-conductor company.
Suresh Varma: Our boss (Swati's father Nimmagadda Prasad) has always taught us to enjoy the journey instead of being occupied with success and failure. We enjoyed the process of making this film. Irrespective of success and failure, we will make films.
The budget of 'Mangalavaaram' is higher than usual. What made you spend so much?
It seemed that Ajay Bhupathi's vision would come alive only if that much budget was spent. This is not a routine film. Audiences are watching these types of stories and genre movies. That's why I am so happy! There is no compromise in terms of music and casting.
How is the table profit before the release?
Swathi, Suresh Varma: Isn't that happy news for anyone? Our first attempt has received so much support from all. We are enjoying this moment.
What kind of response are you getting from other languages given this is a pan-Indian release?
Suresh Varma: There is a strong response. Trident Ravi is releasing the movie in Tamil. He is very happy.
Did you think of anyone before Payal for the character?
Swathi: Ajay Bhupathi did 40 to 50 auditions. During the process, Payal's name came up for discussion. But we had our doubts about her suitability. We did the look test and she fit the bill. She has worked extremely hard.
What is your next movie going to be like?
Swathi: Nothing has been finalized. We will definitely do something that excites us.
Big heroes like Allu Arjun and Ram Charan are your friends! Are there any plans to make a film with them?
Suresh Varma: We might, in the future.
Swathi: There are no such plans as of now. They are busy with their current commitments. I don't like to mix friendship and business. They are good friends. They will support me. I have to prove myself first. I will prove myself and ask them when I feel confident.
Chiranjeevi garu tweeted the trailer and said nice things about you. How did it feel?
Swathi: It was a very emotional moment. Chiranjeevi garu used to tell me I am like my father. Everyone was surprised after seeing the teaser and trailer of 'Mangalavaaram'. I didn't get a single message after the poster was released because nobody knew it was me who was the producer. They couldn't make it from my surname Gunupati on the poster. My father was happy that I did the film in collaboration with Suresh Varma.
Suresh Varma: I have always been a huge fan of Chiranjeevi garu. As a youngster, I used to pine for a meeting with me. I not only got to work with him but he also supported my first movie.