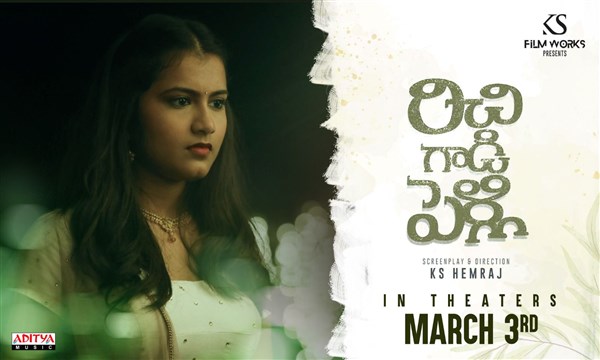 Movie Title: Richie Gadi Pelli
Release Date: March 3 2023
Starring: Naveen Neni, Sathya SK, Praneetha Patnaik, Bunny Vox, Kishore Marishetty, Chandana Raj, Praveen Reddy
Editor: Arun EM
Music Director: Sathyan
Cinematography: Vijay Ulaghanath
Dialogues: Rajendra Vaitla
Story: Rajendra Vaitla & Nagaraju Madhuri
Co Producer: Surya Mehr
Producer: KS Hemraj
Banner: K.S. Film works
Screenplay & Direction: K.S. Hemraj
Moviemanthra.com,Rating: 3.25/5
Richie Gadi Pelli is a feel good emotional drama starring Naveen Neni, Sathya SK, Praneeta Patnaik, Chandana Raj, Praveen Reddy, Bunny Wax, Kishore Marishetti and directed by KS Hemaraj under KS Film Works banner. This movie, which has already impressed the audience with a different title & trailer, has a grand release on March 3. And, let's know to what extent this "Richi Gadi Pelli" has pleased the audiences?
Story:
'Richie' (Satya SK) & 'Netra' (Bunnyvox) fall deeply in love and break up. A few days later, Richie (Satya SK) comes a wedding announcement for all his 'friends'. With that, Richie's gang leaves for 'Ooty'. Everyone who is already in the 'Richie Gang' has some 'exit' in their 'lifestyle'. And, is that problem solved by this Richie Gadi marriage? What kind of twists and turns did the 'wedding' take due to Richie's friends going to Ooty? Will 'Netra' & 'Richie' Meet? forms the crux of the story.
Performances:
Satya SK's acting like a lover boy in his usual style is good. Especially, as long as you look at the screen, you feel like you are watching a Bollywood star. Praneetha Patnaik's character is very unique and the performance is appreciated. Bunny Vox is a YouTube star in real life. She played the role very homely in the movie. Naveen Neni makes a good appearance in the film. Lakshmipati (Satish) made the audience laugh. Kishore Marishetti, Chandana Raj, Praveen Reddy and others performed well.
Technical Aspects:
The cinematographer showed his mark in the opening scene of the movie. All the Richie friends leave their busy lives and go to 'Ooty' for the "Richi Gadi Pelli". This is where the real story begins. Shrimani's Na Ninnallo Kannululu, Ananth Sriram's song "Emitidi Mati Or.. Pranama" gets a good response in the theatre. K.S. Hemraj who is a newcomer in screenplay & direction has done his best. If not, some continuity and missing logic here and there should be paid more attention. Cinematography by Vijay Ulaghanath is visually superb. Sathyan, the music director, was fine. The production values are rich.
Review:
"Richie Gadi Pelli" is a story that mirrors human relationships. This is a film with an interesting concept, where friends and families have fun on the phone. What changes and twists and turns have come in their lives because of that fun game, the film progresses ahead interestingly. Also, it would have been better if some more care had been taken in the story. Vijay Ulaghanath, who is very famous in the film industy is the asset of this movie as a cinematographer. He played the lead role in making this film a feel-good emotional drama. Director Hemraj has tried to tell that matter in a very sensitive and lovable way. Especially, Naveen Neni, Praneetha Patnaik and Satish's characters have shaped the background stories in a way that is very impressive to the audience. Overall, it is a movie that every audience can watch in the theater.
Punch Line: Richie Gadi Pelli is a sensible and an emotional human drama