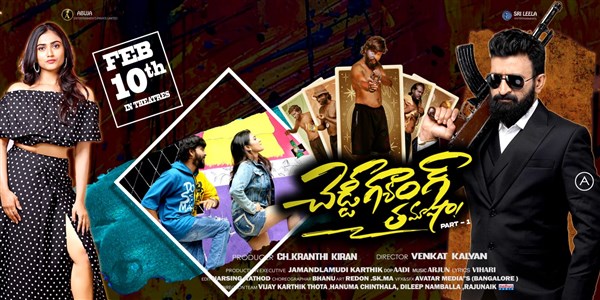 Cast: Venkat Kalyan, Gayatri Patel, Laxman Meesala, Jabardasth Apparao, Vijay Karthik Thota, and others.
Hero: Venkat Kalyan
Heroine: Gayatri Patel
Cinematographer: GK Yadav
Music Director: Arjun
Lyricist: Vihari
Editor: Narsing Rathod
Art Director: Redon SK, MA
Choreographer: Bhanu
Producer: CH Kranti Kiran
Story, Dialogues, Screenplay, Direction: Venkat Kalyan
Story:
Johnny (Venkat Kalyan) and his friends are in petty thievery. They call themselves Chaddi Gang. When they are caught red-handed while indulging in a burglary in a village, they are taken to the village's elders. When asked why they became thieves in the first place, the Chaddi Gang leader narrates his backstory. We get to know how Jonny became a thief.
The rest of the film is about whether there is redemption for Johnny and Co.
Performances:
This is a film with unfamiliar faces. The actors tread a difficult path, considering that the comedy becomes eccentric in no time. As such, Venkat Kalyan must be lauded for shouldering the film with a single-minded focus. His comic timing is amped up by those around him. Heroine Gayatri proves to be a good find. The scenes involving them, be they light or serious type, work really well without getting hard on the viewer's mind.
Meesala Lakshman, after films like 'RX 100', gets a strongly-written role yet again. And he makes the best use of the opportunity. The characterization also adds to his performance. Apparao's character is another tib-tickling one. The rest of the cast members have also done a fine job.
What works?
Besides the performances, the making values are impressive. Among the technical elements, the cinematography is able as much as the background score.
We get to learn about the modus operandi employed by the gang. The rivals rise to the occasion and their tricks are believable. That way, the writing part is consistent.
The editor's work also revs up the frames. Be it the choice of the locations or the colour palette, nothing is over-the-top or inappropriate.
What could have been better?
The second half could have had better comedy. There should have been a couple of more comedy scenes to keep the audience hooked to the screens throughout.
The film should have avoided becoming a crime caper here and there. The madcap nature of the comedy should have come through more often.
Verdict:
The director has conveyed to the audience what he had set out to do. This youthful entertainer, complete with oddball wit, will be liked by those audiences who love entertainers.
Rating: 3