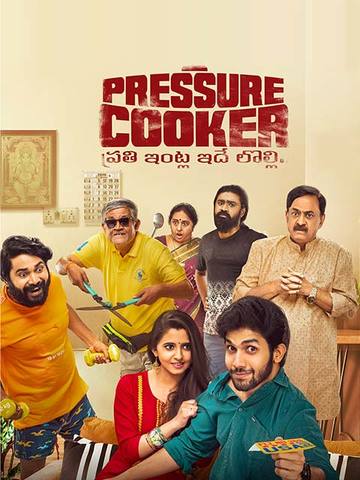 Film: Pressure Cooker
Cast: Sai Ronak, Preethi Asrani, Rahul Ramakrishna, Rajai Rowan, Tanikella Bharani and others
Producer: Sujoi, Sushil, Appi Reddy
Story, Screenplay, Direction: Sujoi and Sushil
Music: Sunil Kasyap, Smaran, Harshavardhan Rameshwar and Rahul Sipligunj
DOP: Nagesh Banell and Anith Maddadi
www.moviemanthra.com;Rating: 3/5
Release Date ; 21 /2/2020
The parents, in the current times, wanted their children to leave for the USA. They work very hard and wanted their children to settle well, in the USA. The story is the same in man families. The directors' duo Sujoy-Sushil has come up with the new movie Pressure Cooker. On the occasion of Maha Shivaratri today, the film released finally.
Story:
Kishore (Sai Ronak) wants to go to the USA because of the parents. His parents put a lot of pressure on him but his visa gets rejected constantly. He comes to Hyderabad to give another attempt. Kishore falls in love with Anitha (Preeti Asrani) in Hyderabad and he also takes up a part time job. In the process, he faces a lot of challenges. What are they? How did he overcome them? What happens in the end? is the story of the movie.
Review:
Sai Ronak and Preethi Asrani looked very good on the screen. After playing the child artist role in Malli Rava, she has now made her debut as a heroine in the film. Her role is designed well and she did a great performance. Sai Ronak too acted well in the film and he takes full marks for the best performance. Tanikella Bharani did well in an interesting character. The role has come out well too. There is a lot of perfection in their characters. CVL Narasimha Rao is also good in the film. The rest of the actors did their best.
Naresh and Anith did a good job with the camera. The cinematography is nice. The love track came out well. The visuals are grand. Harshavardhan Rameshwar's background score is very impressive. Sunil Kashyap, Rahul Sipligunj and Smaran gave good songs. The editing work by Naresh is also good in parts.
Sujoy-Sushil duo came from the USA and started living in Hyderabad. They came up with a unique point which is relatable in every family. The story of the movie is very much realistic. The script is very good. With a unique concept, the makers tried to impress the audiences well. The screenplay is good too. The performances are nice. The film unit worked hard in all the aspects.
The film has a unique concept that is told in an interesting manner. The youth gets easily connected to the film. The small budgeted film released today and it has got all the elements that will impress the audiences. Go watch it.
Finally: Pressure cooker is an engaging family entertainer.