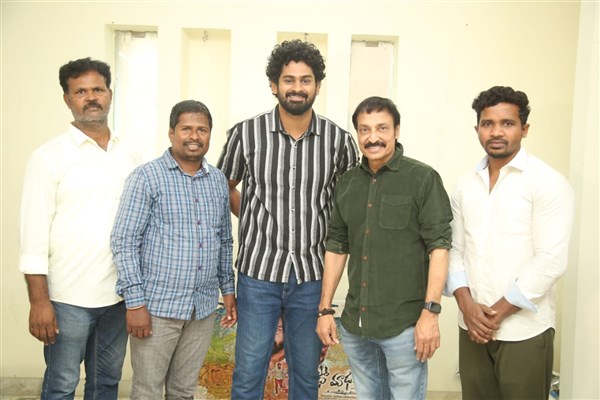 Love dramas set in village backdrop always get a good response on the silver screen. Freshly, another rural love story is coming to entertain the audience. The film Radha Madhavam is a beautiful love story produced by Gonal Venkatesh with Vinayak Desai and Aparna Devi playing the lead roles. This movie is directed by Dasari Eshaku, while Vasanth Venkat Bala provides the story, dialogues, and lyrics. The film unit, which has now completed its shooting, has started its promotional activities. As part of it, the film's first look was unveiled. Renowned producer Raj Kandukuri did the honors of launching the poster.
After releasing the first look, Raj Kandukuri said, "Dasari Eshaku directed this movie and Gonal Venkatesh produced it. This is Vinayak's second film as the lead. The poster looks very intense. If the content is good then the audience will encourage even small-time films as well. I really liked the poster. I wish that the audience will love this film."
Hero Vinayak said, "Thanks to Raj Kandukuri garu for releasing the first look poster of our film. We wish to have his support always. The audience should bless us. I request everyone to watch our movie."
Producer Venkatesh said, "Thanks to Raj Kandukuri garu who launched the first look of Radha Madhavam. Thanks to the entire team for lending complete support."
Director Eshaku said, "We're glad that producer Raj Kandukuri garu released the first look poster of our film. I believe that everyone will love our film."
Writer Vasanth Venkat Bala said, "Thanks to Raj Kandukuri garu for launching the first look of our movie. Thanks to my team for supporting me. I want the audience to appreciate our film."
Cast: Vinayak Desai, Aparna Devi, Meka Ramakrishna, Jaya Prakash, Priya, Naveen, Ravi Sivateja, Suman, Racharla Lasya, Dhanush Acharya, Racharla Mahesh, Srikanth Parkala, Satish Kollipalli, Srinu, Adepu Manideep, Chiranjeevi, Kamanagari Jyothi, Surabhi Shyamala, etc.
Technical Crew:
Producer: Gonal Venkatesh
Director: Dasari Eshaku
Story, Dialogues, Lyrics: Vasanth Venkat Bala
Music: Chaitu Kolli
DOP: Taj GDK
Editor: K Ramesh
Fights: Robin Subbu
PRO: Sai Satish, Rambabu