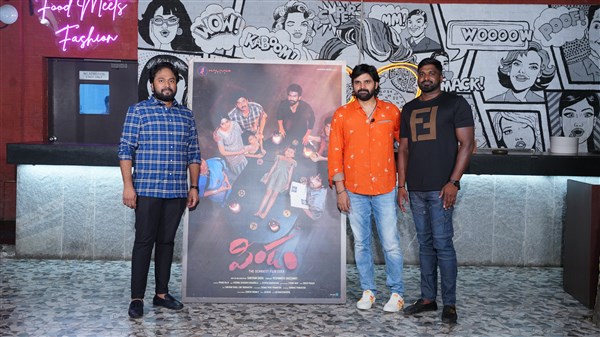 Popular actor Sriram and Kushee Ravi are joining hands for a film titled Pindam. The film is being directed by a debutant Saikiran Daida. Yeshwanth Daggumati is bankrolling the project under Kalaahi Media. The makers have wrapped up the shoot and are working on the post-production formalities now.
The film's title, first look poster were unveiled by Samajavaragamana star Sree Vishnu today; the latter also wished the team ahead of its release. Pindam is a true-blue horror film, staying true to the genre and will touch upon a first-of-its-kind theme, the director shares.
Pindam will unfold across three timelines – present-day scenario besides dating back to the 1930s and 1990s. The screenplay is the major highlight of the film, the makers say. I thought it would be challenging and exciting to do a film in the genre for my debut, the director opines.
Telugu audiences have consistently encouraged out of the box attempts in the past and Pindam will be a film that won't disappoint them, the makers exude confidence. Pindam is already a rage on social media, with the caption 'the scariest film' ever, striking a chord with film buffs.
While the post-production work is progressing at a brisk pace, the team plans to release the teaser on October 30. Pindam is gearing up for a release in November, the producer Yeshwanth Daggumati adds.
Cast: Sriram, Kushee Ravi, Easwari Rao, Avasarala Srinivas, Ravi Varma
Crew
Banner: Kalaahi media
Presents: Aarohi Daida
Story: Saikiran Daida , Kavi Siddartha
Writer & Director: Saikiran Daida
Dop: Satish Manohar
Music: Krishna Saurabh surampalli
Executive producer: Suresh Varma V
Costume designer: Padma priya penmatcha
Art director: Vishnu Nair
Editor : Shirish Prasad
Stunts: Jashva
Line producer: Srinivas penmatcha
Co-producer: Prabhu Raja
Producer: Yeshwanth Daggumati