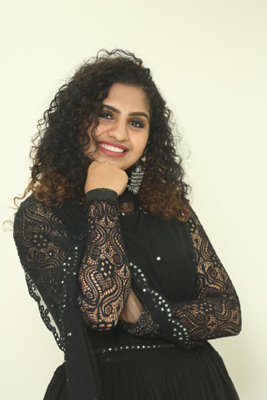 Noorin Shereef is one of the young heroines in the Tollywood movie industry who is now coming up with an exciting project titled Oollaala Oollaala. The makers are pretty happy with the way the things are progressing at the box-office and the pre-release promotions of the movie are also in a full swing now. Natraj plays the lead role and Ankitha plays another leading lady role. Altogether, the movie came out really well and with everything falling into the place, the heroine Noorin hopes to make it big. She interacted with the media today and the following are some excerpts from the interview.
Tell us about the movie.
This is my first straight Telugu film and I already met the audiences with the Lovers Day that released in Malayalam. I am happy that the Telugu audiences accepted me already.
Tell us about your role.
I play Noori in the film who is a village girl but a smart girl. She loves the hero a lot. The film has a lot of interesting elements like love, horror, comedy and all.
What made you accept the role.?
Half credit is to be given to the commitment and the other half is the trust I had in the team. Producer Gururaj sir already associated with me for my other project and director Satya Prakash sit is also very experienced.
Do you have any inhibitions in sharing screen with other heroine?
No. In my first film Lovers day, it was a different case and even though in this film, there are two heroines, we dont have a combination but we both have different tracks for us.
Did you watch any Telugu films recently?
No. I haven't watched them yet and I have to get back to watching Malayalam too.
Do you know Telugu?
I only understand a little Telugu but I want to learn it.