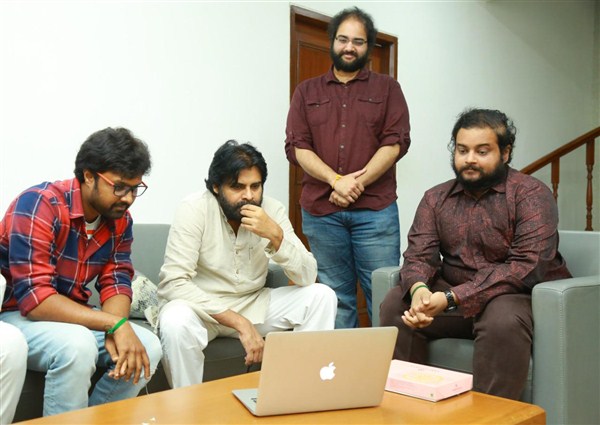 The song' Ee Manase' from the film MISMATCH was released today by Power Star Pawan Kalyan . Speaking on this occasion, he conveyed his best regards to the Hero of the film Uday Shankar and wished the whole team on their endeavor . Uday Shankar speaking on the occasion expressed his joy at his favorite star launching the song from his film MISMATCH.
He said that Tholi Prema was a landmark film in Shri Pawan Kalyan's career and the evergreen hit song 'Ee Manase ' from that film has been remade in MISMATCH. He added that the song was one of it's kind as it was choreographed in a single shot . The rest of the crew expressed that the film would appeal to the audience as it is a family entertainer with a unique theme and treatment .
This film is the first under the Adhiroh Creative Signs banner .
The hero of the film is G Uday Shankar ( Aatagadhara Shiva ) and the heroine is Aishwarya Rajesh ( Nawab , Kanaa , Vada Chennai ) who is the daughter of yesteryear actor Rajesh . The director is N V Nirmal Kumar who created ripples with his much acclaimed debut Doctor Salim .
The producers of the film G Sriram Raju and K Bharat Ram officially have announced that the film is ready for release on Dec 6th .
Cast & Crew:
sanjay swaroop,Pradeep rawath ,roopalaxmi,sharanya
Music Director: Gifton Elias, Director of Photography: Ganesh Chandrra Story: Bhupathy Raja Dialogue writer: Rajendra Kumar, Madhu
Lyrics: Sirivennela Sitarama Sastry, Suddhala Ashok teja,Oruganti Dharma teja,Shreshta, Art Director: Mani Vasagam Director: NV NirmalKumar Producers: G. Sriram Raju,K. Bharath Ram