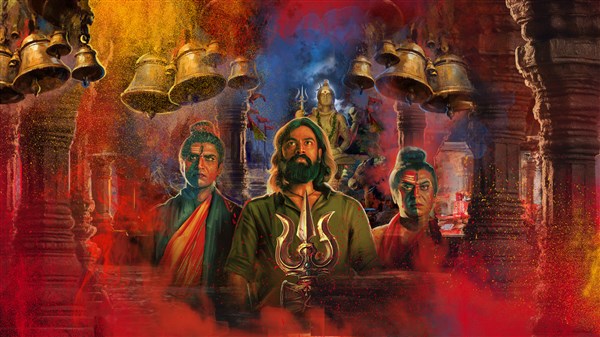 Rakshit Atluri of Palasa fame is playing hero in the film Narakasura. Aparna Janarthan and Sankeerthana Vipin are playing as female leads in the film. This movie is being produced by Dr. Ajja Srinivas under the banners of Sumukha Creations and Ideal Film Makers. Sebastian Nova Acosta Jr. is directing the film.
Narakasura movie is going to be released soon in Telugu, Hindi, Tamil, Malayalam and Kannada languages. Recently, the lyrical song Ninnu Vadhili from this film was released and it impressed all the music lovers.
Today, Young hero Kiran Abbavaram has recently released the lyrical song 'Greevamu Yanduna' from the film "Narakasura". He said that the song is very good and wished all the best for the movie team. "Narakasura" team members thanked hero Kiran Abbavaram for releasing the song.
Vaddepalli Krishna has given the lyrics to this song sung by phenomenal singer Shankar Mahadevan in a beautiful composition by AIS Nafal Raja. The song goes on to question Lord Shiva. The song has been picturized to give a spiritual feeling with the get-ups of Shiva devotees. The movie team of "Narakasura" says that this song will come at a key moment in the movie and will be a special attraction of the movie.
Actors – Rakshit Atluri, Aparna Janarthan, Sankeerthana Vipin, Shatri, Nassar, Charan Raj, Teja Charan Raj, Sreeman, Gayatri Ravi Shankar etc.
Technicians:
Banners : Sumukha Creations and Ideal Film Makers
Producer : Dr. Ajja Srinivas
Co Producer : Karumuru Raghu
Editing : CH Vamsikrishna
Cinematography : Nani Chamidshetty
Music : AIS Nafal Raja
Singer : Shankar Mahadevan
Lyricist : Vaddepalli Krishna
Choreographer : Polaki Vijay
Action : Robin Subbu
PRO : GSK Media
Written, Directed by: Sebastian Nova Acosta Jr