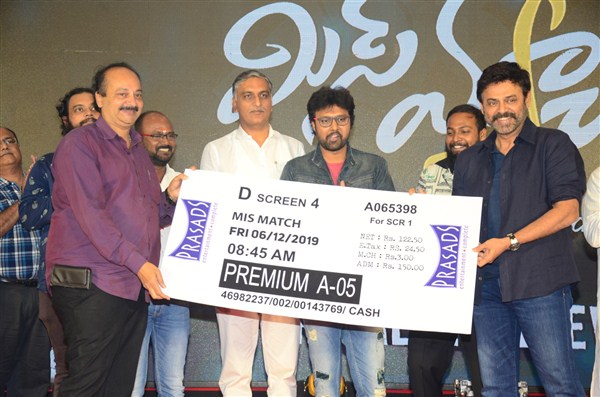 MisMatch, a Love story of a Wrestler featuring Uday Shankar and Aishwarya Rajesh in lead role is all set to hit the silver screens on 6th December. NV Nirmal Kumar directed this film and G Sriram Raju, K Bharath Ram bankrolled it. Pre Release event was held in Hyderabad and Telangana Finance Minister Harish Rao and Star Hero Victory Venkatesh graced this event as Chief Guests. Darshakendrudu K Raghavendra Rao, Deshapati Srinivas and Hero Sree Vishnu also graced this happy occasion.
Talking about the film, Telangana Finance Minister Harish Rao said "Different concept films and New story line films are being released these days and all are becoming Hit. MisMatch is also such film. It's a Sports backdrop Love story film made up with beautiful message. I wish Mismatch will become Super Hit. Hero Uday Shankar holds a Guinness book record at the age of 15. He acted as a intelligent IIT Student. Films should come up with good Message and MisMatch is one such film".
Victory Venkatesh Said "Every actor and Technician who worked in this film are very close to me and my best wishes to each one of them. Uday Shankar is very good actor. He delivered terrific performance in his first film Aatagadharaa Siva and now he is doing very different role in Mismatch. It's a great thing to achieve Guinness Book record at the age of 15. Aishwarya Rajesh delivered outstanding role in this film. I like women oriented scripts and this film will bring respect to today's women. I wish whole team all the best".
Film Director Nirmal Kumar said "My heart full thanks to Minster Harish Rao garu and Venkatesh Garu for gracing this event. I thank my producers for giving me this opportunity and Bhupathi Raju garu for giving beautiful story to us. MisMatch is complete commercial entertainer. Hero Uday Shankar is very active. He practiced Tholi Prema song for three days and performed it in just one single take. Aishwarya Rajesh took special training as Wrestler for three months. Her character will be major highlight in the film. Beautiful songs are there in the film and I hope every one will like this film".