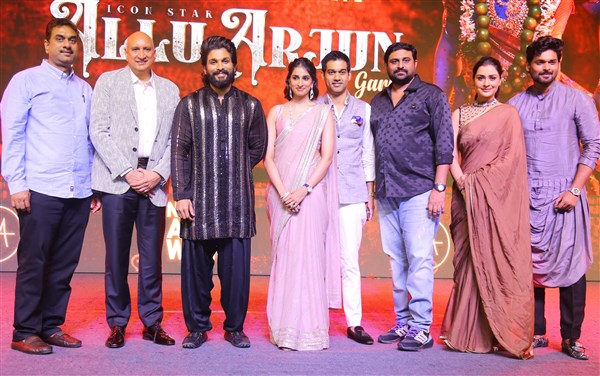 Super-talented director Ajay Bhupathi of 'RX 100' fame is all set to make us awestruck with 'Mangalavaaram'. Swathi Reddy Gunupati and Suresh Varma of Mudhra Media Works and Bhupathi's A Creative Works have produced this November 17th release. To be released in theatres in Telugu, Tamil, Malayalam, Hindi and Kannada, the film's pre-release event was held on Saturday in the presence of Icon Star Allu Arjun, who graced the grand event as the chief guest.
Speaking on the occasion, Icon star Allu Arjun hoped that the audience would love the film upon its release in theatres on November 17. "I saw the teaser a few days ago and was shocked by its content. Very few movies make us want to watch the movie immediately after we watch the teaser. 'Mangalavaaram' is one such rare outing. I remember what Ajay Bhupathi said when he narrated the story. He promised to make a film that will make us proud. The trailer gave me that feeling. I liked 'RX 100' a lot. The song 'Pilla Raa' is played at my residence. Bhupathi is a great technician. I was confident that he would become a great director. Two days ago, my director Sukumar asked me about my attending this event as the chief guest. I showed him the teaser at that time. Sukumar was shocked to see the content. Some movies create a vibe. This movie is an example of that. I want the audience to bless the film whole-heartedly. The cinematographer, the sound designer, the music director and the editor have worked very hard. 'RX 100' is a landmark film. Heroine Payal Rajput deserves 'Mangalavaaram' to be another milestone. All the best to her. This is a very bold story. When Ajay Bhupathi narrated the story, I felt that it would take a lot of courage to make such a film. The teaser proves this is an extremely well-shot movie. Very few people in our life feel as delighted about our success as we feel. In my life, Swathi and Pranav are among such few people. Swathi has made this movie on Mudhra Media Works. That way, it feels like my own film. I feel that way when Bunny Vas and SKN make films. It is good that Swathi has teamed up with Suresh Varma to make this movie. I have known Prasad garu since the days of MAA TV. Two years ago, when Swathi wanted to produce a feature film, I gave her some pieces of advice. She made this film on her own. This is my first event since winning the National Award recently. I thank everyone for congratulating me. I wish 'Mangalavaaram' a grand success the coming Friday."
Famous industrialist Nimmagadda Prasad said, "We have a football team in Kerala. A player from East Europe made the 'Thaggede Le' mannerism after winning a tight match. He doesn't even know Telugu and Hindi. You can understand the supreme reach of Allu Arjun just by this! Arjun fully deserves the National Award. I appreciate him wholeheartedly. All the best to Bunny! After my daughter Swathi's graduation, she decided to stay put here itself. I asked her to work with me in the TV industry. She worked next to Suresh Varma for a salary of only Rs 18K. I am very happy that such a person has produced a film today. I am proud as a human, not just as a father. The subject of 'Mangalavaaram' is difficult. I saw Ajay Bhupathi as a director working with a vengeance. He has truly exceeded my expectations."
Famous producer Dil Raju greeted Allu Arjun and spoke of their parallel journeys. The producer praised Bunny's phenomenal journey since the days of 'Arya'. "He has scripted history, which will always be remembered in the history of Telugu cinema. After 'RX 100', Ajay Bhupathi drew my attention. He did a different movie and delivered a super hit. I have been following his work since then. Knowing that he was doing 'Mangalavaaram', I learned about the story. He came to me and gave a narration. This is a new attempt. Welcome to the industry, Prasad and Swathi! All the best to Ajay Bhupathi. We are going to see a super hit on November 17," Dil Raju added.
Film producer Swathi said, "We are very happy that our movie 'Mangalavaaram' is getting such a good response already. My dream has always been to produce a film. I am happy that Suresh Varma has made my dream come true and produced the film with me. Thanks to Ajay Bhupathi for traveling with us. The characters are the life of this movie. I thank all the actors on this occasion. Those characters were written for them. Ajaneesh B Loknath gave fantastic music. I thank Chiranjeevi uncle for launching our trailer. My father (Nimmagadda Prasad) has always taught me to enjoy the journey rather than the end. Anything done with will power is called success. Thanks to Pranav, my backbone, my husband, who encouraged me to dream big. I thank Icon star, my dear friend, my best friend. It is because of him that I dared to do this film. When I told him about my dream, he encouraged me to make it a reality. He is here today because he knows I need his support."
Film director Ajay Bhupathi said, "A year and a half ago, Allu Arjun called me and asked for the story of 'Mangalavaaram'. I gave him a narration. Despite his busy schedule, he was available over a period of two days. He loved the teaser and trailer. I hope he likes the movie for sure. He is here today to bless us. Neither I nor our team will ever forget him. Of the two films I have done earlier, one was a hit and the other didn't work. Even if 'Maha Samudram' had become a blockbuster, I would have made 'Mangalavaaram'. Don't think this is a film without a hero. You are going to experience goosebumps watching it. Poonakalu are assured. Ajaneesh gave next-level music. Without this team, nothing would have been possible. 'Mangalavaaram' is a movie with rich technical values. There are elements that will shock the audience. Those who watch this rustic mystery thriller, please don't give out spoilers. This is a new genre for the Indian screen. It will be released as a pan-India movie. Swathi garu is classy. I am mass. I thought she wouldn't like the story. But she liked the story immensely. Thanks to her and Suresh Varma. Although the story has a female-oriented touch, this is a very complicated point. My hands trembled while writing the script. We shot outdoors for 100 days. The budget shot up. We have worked hard to ensure high quality. This film will surely be loved by the audience when they watch it on November 17," he said. The director ended the speech by praising Allu Arjun for being the first Telugu actor to win the National Award.
Producer Suresh Varma said, "Bunny has brought us Diwali a day earlier. I will never forget this day in my life. He values friendships a lot. I am forever indebted to him. The most important person in my life is my boss, Nimmagadda Prasad, whom I have known for the past 17 years. Swathi always calls me Suresh. And Ajay is my younger brother. He is more than a director of 'Mangalavaaram'. He took a lot of responsibilities on his shoulders."
Heroine Payal Rajput said that she was stunned to see Allu Arjun. "I don't know what to say today. It has been five years since I entered the industry. Thanks to the audience for supporting me."
Actor Ajmal Amir said, "I am an Ajay Bhupathi fan. I have seen the two movies made by him. I am very happy to act in 'Mangalavaaram'. With this movie, Payal is going to earn the respect of the audience. You will see her acting prowess in this one."
Lyricist Bhaskarabhatla Ravikumar said, "I wrote the song 'Ganagana Mogalira' in the movie. It is the theme song of the movie. This is the first time I have written such a song. Thanks to Ajay Bhupathi for giving me the opportunity."
Lyricist Sira Sri said, "Director Ajay Bhupathi showed me a part of the movie before asking me to write a song. This is a next-level movie. Everyone who worked for the film gets a lot of fame. The background music and the dialogues take us into a special world. I feel proud to be a part of this film. Thanks to Ajay Bhupathi for giving me the opportunity."
Lyricist Ganesh, actors Sritej, Chaitanya Krishna, Ravindra Vijay, Shravan Reddy, Lakshman, Muralidhar Goud, Giridhar, Karthik, dialogue writer Tajuddin Sayyed and others also attended the event.
—
PRO!
Pulagam Chinnarayana