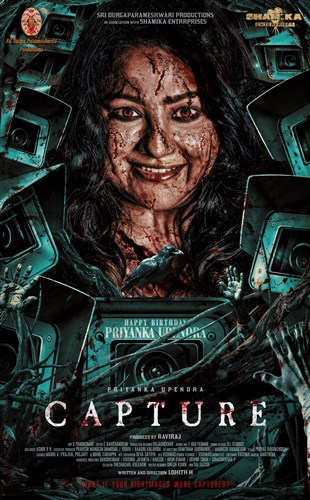 Kannada superstar Upendra's wife Priyanka Upendra is coming up with a unique experimental film Capture which is the first ever movie in the world to be shot completely from the CCTV point of view. It is also one of the rarest movies in the world that was filmed with a single lens. Directed by Lohith H who is known for making movies w2ith novel concepts, Capture marks the third collaboration of the director with the actress, after Mummy and Devaki. Raviraj is producing the movie on Sri Durgaparameshwari Productions, in association with Shamika Enterprises. Radhika Kumaraswamy presents the movie.
The film Capture was entirely shot in Goa for 30 days. The shooting part was completed, and the post-production works are underway. The movie is gearing up for its theatrical release. Interim, on the occasion of Priyanka Upendra's birthday, the makers released a new poster featuring Priyanka Upendra who is seen severely injured with blood marks all over her face, whereas there are numerous CCTV cameras around her. There is a crow sitting on one of the cameras, and we can see hands in the poster. What intrigues us is the smiley and suspicious face of Priyanka. This creepy poster makes us curious to know what the movie is all about.
Manvita Kamath of Shiva Rajkumar's Tagaru fame is playing one of the key characters, whereas Master Kanishraj is making his debut in another important role. Pandikumar is the cinematographer, while Ravichandran handles the editing.