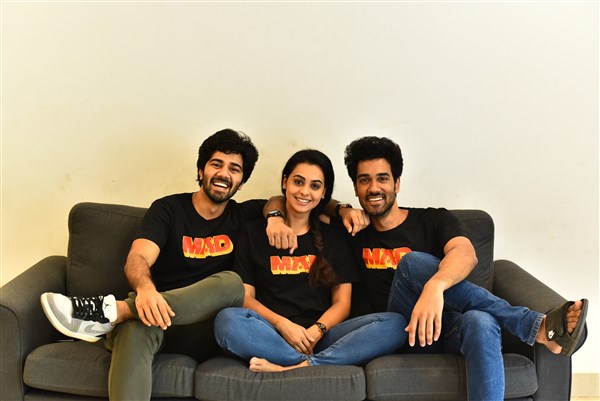 Starring actors Narne Nithin, Sangeeth Shobhan, Ram Nithin, Sri Gouri Priya Reddy, Ananathika Sanilkumar, Gopikaa Udyan, comedy entertainer Mad is hitting screens worldwide on October 6.
Directed by Kalyan Shankar, the film is produced jointly by Haarika Suryadevara & Sai Soujanya under the banner Haarika & Hassine Creations and Sithara Entertainments.
Ahead of the film's release, the lead actors Sangeeth Shoban, Ram Nithin, and Gopika Udyan caught up with web media journalists on Tuesday to share their experiences working with the film project.
After making a splash with web series Oka Chinna Family Story, actor Sangeeth Shoban is upbeat about his upcoming comedy 'Mad'. "Naga Vamsi garu initially contacted me stating there is a hilarious story and shall go ahead once I listen to the script. Just five minutes into the story, the college vibe and humour impressed me. Because it's been so many years since a story of this sort has come up in Tollywood. The very next day, I was on board. Through Oka Chinna Family Story I got this offer. Certainly, it was the base to gain an entry into mainstream cinema," he added.
Ram Nithin: I started my acting career with a YouTube series. Later, I've done a series named Hello World. Within two days after it was out, I got a call from Naga Vamsi garu. For me, getting on offer from a popular production house was a shot in the arm. I instantly okayed it because of the script.
Female lead in Mad, Gopika Udyan: I am Malayali, settled in Dubai. I am debuting in Telugu with Mad. I have done a feature film in Malayalam with Asif Ali. I came into Mad through Instagram. The narration was done through Zoom call, I okayed the script soon after listening to it.
Mad seems to have the vibes of Sekhar Kammula's film Happy Days that came out in 2007. What kind of flavour does it have?
Sangeeth Shoban: I already said this in press meet recently. It's been more than 15 years since the movie was released. Comedy and humour belong to that generation. Happy Days can be relatable to that era of youngsters. But now, the trend of enjoying Instagram, facebook and Twitter belongs to this generation. Mad would have this style of comedy. The humour would have references of the popular culture of today's world. This is the major difference in comedy, the college setup is quite common. But Mad will have an absolute laugh riot in theatres.
Speaking about his elder brother Santosh Shoban, who has already made a mark in Tollywood, Sangeeth says, "My brother Santosh struggled a lot to attain what he is now in Tollywood. And I am not before you after making a debut with a webseries. OTT is a blessing for young actors like me. Back in those days, if one had to become an actor there was no alternative to the big screen. But now OTT is helping everyone out. I am proud of what my brother has achieved."
Sangeeth said that he was a child when his brother Santosh was launched on the big screen. "I was a kid when Prabhas garu launched my brother. Since my father had worked with Prabhas anna, he came to us and gave an encouraging gesture by backing up from UV Creations. I am happy that their presence is with my family."
Mad is being compared with the likes of Jathi Ratnalu, what's your take on it?
Sangeeth says," It's because KV Anudeep and Mad director Kalyan Shankar have jointly written the script of Jathi Ratnalu. Thus a comparison came up. Naga Vamsi garu just wanted to pull his leg during the press meet recently. He meant that Mad would be as light-hearted as Jathi Ratnalu, that's the reason the film was compared with Jathi Ratnalu. Anudeep played a fun character in Mad. He agreed to play the role because he is a good friend of the director.
Ram Nithin said the film is titled Mad because it has the humour that makes audiences go mad. "Mad is a compliment to a good film. It need not necessarily be mad. Any film that you laugh wholeheartedly watching while it might evoke a feeling of joy. It was DJ Tillu's director Vimal Krishna who said the script was "Mad" after hearing from Kalyan. So eventually, the director took the word mad and coined the same to it. All the three characters played by me, Sangeeth, Narne Nithin will have a proper bromance in the film. And how these chaps bump into three good-looking ladies Sri Gouri Priya Reddy, Ananathika Sanilkumar, Gopikaa Udyan and the chemistry and friendship between them will be fun to watch."
Sangeeth said that he wanted to entertain audiences more than acting in the film. "I could have played the character more subtly. There are no audiences for newcomers. Unless we bring out good energy, no one cares to watch a film starring three young chaps on the screen. So our responsibility is to create a vibe that people should come to theatres to watch the fun of college boys. We would constantly discuss with director Kalyan to understand the characters in depth. That way it helped to bring the best out of us."
Gopika Udyan explained that she plays a character named Radha. "I am playing a vital role in the movie. Radha comes from a small town to study at a city college. Radha and the character played by Sangeeth are childhood friends. They come to college for the first time. And what kind of experiences they face during their college life is the story in gist," she added. Speaking about the producer Haarika garu, Gopika said, "Yes, she too is debuting with the movie Mad. And the best part is we all belong to the same age group. It's great to work with the producer, to vibe with, to talk with. She would come to the sets every day. She never had that producer-wala feeling. I hope she gets to do more projects in the future."
Sangeeth highlighted the importance of music for films that come under the comedy genres. "Music is the soul I would say. Bheems Ceciroleo has given amazing music, especially to the scenes when we enter the college."
Ram Nithin said all the characters came from the madness of the director Kalyan. "He is the maddest person on the sets. The movie and the story are actually conceptualized through his personal experiences during college. Mad is going to be a slice of life comedy."
Sent from my iPhone