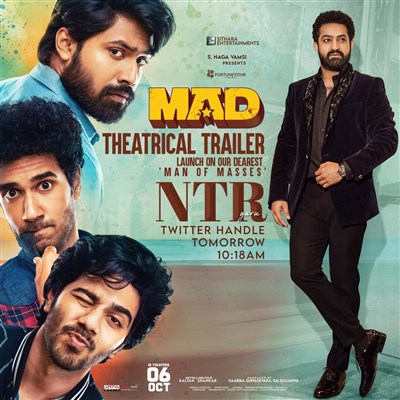 Man of Masses NTR has been highly friendly and appreciative about young and new talents in the Film Industry.
Extending his support to the youngsters Narne Nithiin, Sangeeth Shobhan, Ram Nithin, Sri Gouri Priya Reddy, Ananthika Sanilkumar, Gopikaa Udyan, he released the MAD caper theatrical trailer at 10:18 AM on 3rd October.
The trailer showcases how college students behave while exploring their Hostel days and Lectures, in a fun and no-holds-barred humorous way. MAD makers have made it clear that film is made by the youth, for the youth, giving them a relatable fun ride at the theatres.
As college films have become rare in Telugu Cinema, MAD aims to bring them back to life and Kalyan Shankar, who worked on Jathi Ratnalu, seems to have brought similar style humour to the forefront in this film.
The jokes look fresh, the actors seem to be perfectly cast and trailer promises for young audiences a highly relatable film, in recent times.
MAD is produced by debutant Haarika Suryadevara and co-produced by Sai Soujanya on Fortune Four Cinema. Suryadevara Naga Vamsi is presenting the film.
MAD has music composed by Bheems Ceciroleo and two songs released from the album have become viral hits. Shamdat Sainudeen and Dinesh Krishnan B have handled cinematography for the film. Naveen Nooli edited the movie.
MAD is releasing in theatres on 6th October, worldwide.