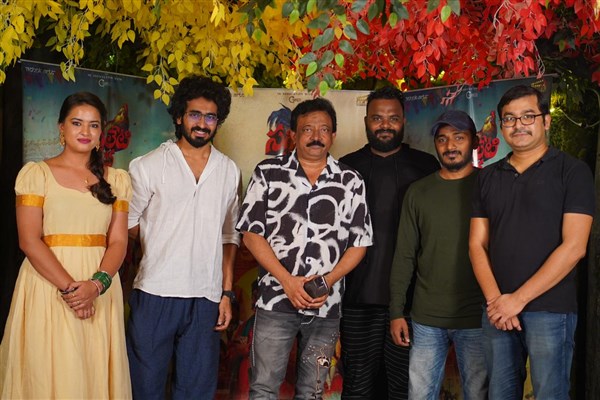 Presented by hero Navdeep C-Space, Ravi Mahadasyam and Vishika Laxman are starring in the film 'Sagileti Katha'. Set in rural Rayalaseema, the film is written, edited, cinematography and directed by 'Rajasekhar Sudmoon'. The film is jointly produced by Deviprasad Baliwada and Ashok Mittapalli under the Shade Entertainment and Ashok Arts banners. There has already been an overwhelming response to the trailer released for the film. In dashing director RGV's den office, the film's first lyrical video song 'Edo Jarige' was released today in Sarigama Telugu by the hands of RGV as a grand…
Director RGV said: After watching the trailer of Sagileti Katha, I felt very excited. My all the best to the director 'Rajasekhar Sudmoon' who has completed this film as a great success and to Keertana Sesh, who sang beautifully and enthralled everyone. This movie will hit screens in September. All the best to all the team.
Producer Deviprasad Baliwada says: In the year I was born, RGV entered films. RGV directed the movie 'Shiva' when I was two years old, watching the movie 'Shiva' and saying the dialogue 'Shiva' at an age when I had no imagination. Since then my parents have fondly called me 'Shiva'. Our parents remind us every time we say this. Unbeknownst to me, RGV influenced me from my childhood. That's how a seed was planted for me to enter films…
From the first movie I produced 'Kanabadutaledu' to 'Sagileti Katha', I really thank you RGV for helping our movies specially and indirectly….
Director Rajasekhar Sudmoon said: "I am thankful to everyone who worked on this film. We got a lot of energy when our movie song was done by the hands of RGV. I owe him a lot. Also, Navdeep, the hero who is presenting our movie, no matter how little he says, no matter how busy he is, he responds immediately and provides us with the things we need. Thank you Navdeep Anna…
Producer Ashok said: Thank you RGV…for launching our song…the output of this song is good. I think it will be a good melody song and everyone will like it with a lot of confidence. Jaswant Pasupuleti, Keertana Sesh, Pawan Kundani's work has been accepted…
Pawan, Co-Founder of C Space said: When I saw this movie, the movie was good and the entire team was impressed. So, if there is talent, C Space team will definitely promote it from the front.
Hero 'Ravi Mahadasyam' says: Sagileti Katha is a beautiful and musical movie. Every song in this movie is good. Essentially, you can fall asleep to a relaxing song that has something going on. I firmly believe that films with content will always be appreciated by the audience. Our movie trailer reached millions of views in a very short time and we are confident that this song will also reach… Thank you so much.
Heroine 'Vishika Laxman' said: Thank you to RGV…When I was listening to the song while shooting, I used to go into a trance. Apart from that, I enjoyed acting romantically while shooting the song…
Cast & Crew :
Starring: Ravi Mahadasyam, Vishika Laxman, Narasimha Prasad Pantagani
Written, Directed, Cinematography, Editing: Rajasekhar Sudmoon
Co-Writer: Shashikant Billapati, Mani Prasad Arakula
Producers: Ashok Mittapalli, Deviprasad Baliwada
In association with : C space
Executive Producer: Naresh Madineni
Associate Producer: Pushpabhaskar, Sunil Kumar Anandan, Leela Krishna Kondepati
Line Producer: Chandu Kothagundla
Music by : Jaswant Pasupuleti
Background Music: Sanal Vasudev
Singers: Keertana Sesh, Kanakavva
Lyrics: Varikuppala Yadagiri, Pawan Kundani, Rajasekhar Sudmoon, Shasikant Billapati, Jaswant Pasupuleti
PRO: Tirumalashetty Venkatesh
Art Directors: Hemant G, Aishwarya Kulkarni
Costume Designer: Harshanjali Senikeshi
Sound Designer: Yati Raju
Sound Mixing: Shyamala Sikdar
DI: Konduru Deepak Raju
Publicity Designer: M.K.S Manoj