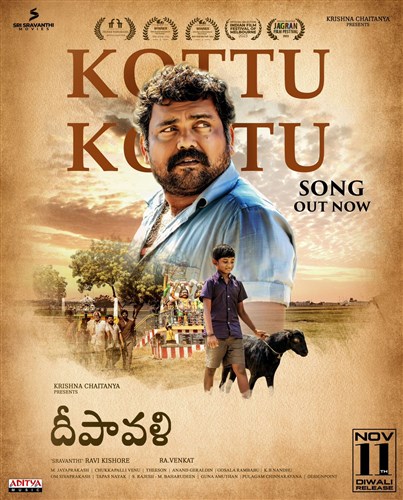 "Deepavali" is the latest movie produced by Renown producer 'Sravanti' Ravi Kishore and presented by Krishna Chaitanya. The film is directed by RA Venkat. Poo Ramu and Kali Venkat played the lead roles. 'Deepavali' is the Telugu translation of Tamil movie 'Kida' which was Ravi kishore's debut film in Tamil industry. It is releasing in Telugu and Tamil languages ​​this Saturday (November 11th) on the occasion of Diwali festival. The title song of the movie is released today.
"Kottu Kottu Whistle kottu…
Bhadhalanni Pakkanettu…
Vacche Vacche Deepavali
Kottu Kottu Adharagottu…
Pandagante Inthenantu…
Intikochhe Deepavali…
Gosala Rambabu has given the lyrics for this song and Theeson has composed the music. This song explains the importance and speciality of the festival. 'Deepavali' has two songs in it and are released by Aditya Music. The recently released song 'Chitti Kanna…' has got a very good response from the Music enthusiasts.
'Deepavali' premiere shows were screened very recently in Telugu and Tamil languages and has been recieiving extremely positive response across from film and Media Fraternity. The Human Relations especially the family relations were portrayed very naturally. Especially the scenes between grandfather and grandson, grandson and a goat were highly emotional. A Grand Father wants to buy clothes to his Grandson for Diwali festival and gets prepared to sell his Goat. What happens next is the story.
Cast and crew:
Poo Ramu, Kali Venkat, Deepan, Pandiyamma, Vijaya, Kamali in the lead roles.
Audio Photographer: Tapas Naik Art Director: K.B. Nandu, Lyricist: Rambabu Gosala, Editor: Anand Gerladin, Music: Theeson, Cinematography: M. Jayaprakash, presented by: Krishna Chaitanya, Producer: Sravathi Ravikshore, Directed by: RA Venkat.