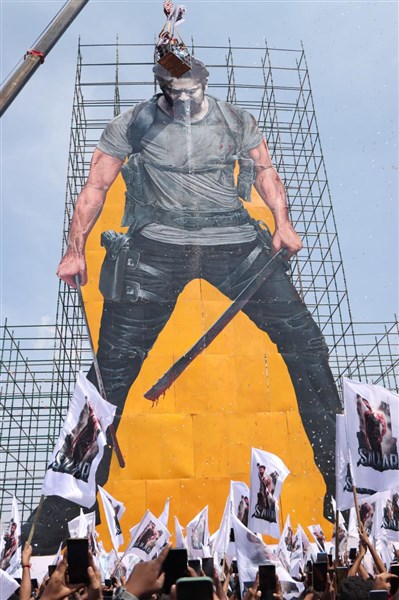 Pan India star Prabhas's birthday celebrations were held in Hyderabad in the presence of his ardent fans. A large number of fans from two Telugu states as well as other states participated in this event which was held at Kaitalapur Grounds, Kukatpally. Fans unveiled a huge cutout of Prabhas at the Kaitlapur Grounds.
Fans done milk hydration ceremony to Prabhas cut-out and cut the cake celebrating his birthday. The birthday celebrations were held grandly in the presence of Prabhas Fans Association leaders Shastri, Ramakrishna, Govind and others.
Shastri, the leader of Prabhas Fans Association, said – We are happy to see the fans who have gathered in large numbers from both states for the birthday celebrations of our hero Prabhas. Our hero Prabhas is a hero not only in films but also in real life. We all know how good personality he has. Prabhas' Salaar is coming on December 22. The celebrations are going to next level on the release date.
Leaders of Prabhas Fans Association Ramakrishna said – Prabhas will always have the blessings of his father Surya Narayana Raju and his father's elder brother Krishnam Raju garu. They watch these celebrations wherever they are. Prabhas is a hero who has become a star by himself. He will rewrite the industry records with the movie Salaar.
Govind, the leader of Prabhas fans association said – Prabhas's stardom is unmatched in the industry. We all know how much he loves our fans. Let's wish Prabhas a super success for all his upcoming films. Said.