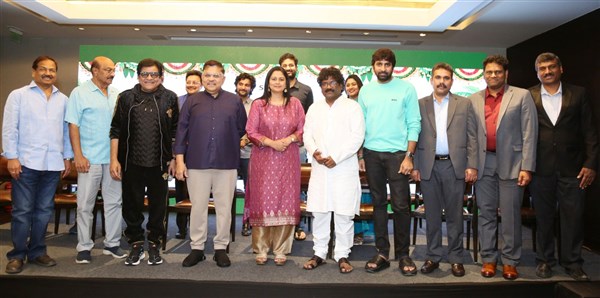 The North American Telugu Society (NATS) held a successful curtain raiser event yesterday at Park Hyatt, Hyderabad. The event was graced by Tollywood celebrities, industrialists, and business entrepreneurs who announced their joining and participation in the upcoming NATS Telugu Sambaralu 2023 to be held at New Jersey.
Bapu Nuthi, the President of NATS, expressed his happiness at the cordial response from the film and business fraternity in gracing the event. He invited everyone to be a part of the grand event from the stage.
Sridhar Appasani, the convenor of NATS, announced that the organization would celebrate the 100th Anniversary of legendary personalities like NTR, Ghantasala, and Allu Ramalingiah, along with the 50th professional anniversary of Jayasudha and Sai Kumar. He also mentioned that NATS has been a propelling force in directing other Telugu Associations in the USA towards meaningful and organized social service.
"This time, NATS would donate 25% of the collected funds towards Telugu Sambaralu 2023 to the genuine social workers in society who are doing more than what they can", Sridhar Appasani added.
Raj Allada, the Deputy Convenor of NATS, revealed that the organization would also organize an event of CXO Forum, as well as the Sharks and Dreamers to facilitate young entrepreneurs with startup ideas to win the attention of investors. He emphasized that NATS is making the Telugu Sambaralu 2023 a unique event with the right mix of entertainment, education for the overall growth of the young crowds in the Telugu community.
The event was graced by Tollywood celebrities like Allu Aravind, Jayasudha, Chandrabose, Ali, Kondanda Rami Reddy, B Gopal, Gopichand Malineni, KL Narayana, Srinivas Avasarala, Sai Kumar, Singer Simha, Sira Sri, Siva Balaji, Madhumita, Praveena, Rajitha, Bogg Boss fame Himaja, Sohel, and others. Everyone spoke to the point, announcing that they are coming to the main event of NATS Telugu Sambaralu to be held at New Jersey on May 26, 27, and 28th.
The occasion was also graced by industrialists and business entrepreneurs like Kishore Kothapalli of Founder MRL Posnet, Rainbow Hospitals MD Dr. Ramesh Kancharla, AVR Chowdary of G&C Consortium, who have been extending their support to NATS. The Curtain Raiser event was organized by Anil and Praveena of Gnapika Entertainment.
……….NATS Telugu Sambaralu 2023 to be held at New Jersey promises to be a grand event, celebrating the rich Telugu culture and bringing together the Telugu community worldwide. Vega Sri Gold & Diamond – Event Sponsors for NTR Centenary Celebrations. Vadilal Ice Cream, Vykunt Developers, Telugu Foods, Razberrys
Delicos, Avigna Jewelers