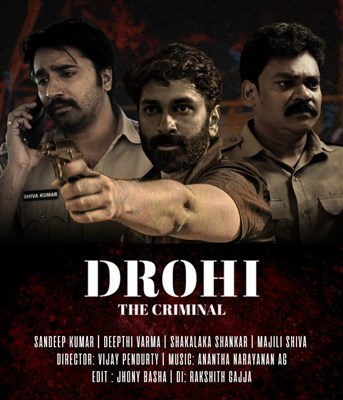 Cast : Sandeep Boddapati, DeepthiVarma , Shakalaka Shankar, Majili Siva, Mahesh Vitta, Deborah
Music : Anant Narayana AG
Production: Play World Creations, SafyrusMedia , GoodFellowMedia , WednesdayEntertainment
Producers: Rajasekhar Ravi Pudi, Srikanth Reddy Duggempudi.
Director: VijayPendurthi
Story : Hero Sandeep (Ajay) is a businessman who runs a business with his two friends. Every business will fail. His wife Heroine DeepthiVarma (Chandrika) supports him as his business is failing. Ajay is under full pressure because every business he does fails and he has not been successful for two years. Chandrika dies because of an incident in her life. He is arrested as a suspect in the case of killing his wife. The story of this movie is how the hero got out of that case. Analysis: The way the director has chosen the story, the screenplay is very interesting. The way the director has transformed each character is amazing, especially a new actor in Shakalaka Shankar. The heroine Debbi, who played a lead role in this movie, appeared in a soft character unlike her earlier role. The music is light and adds interest to the film. Hero Sandeep's performance and the way he portrays his character is very good. Shakalaka Shankar's role is very interesting. Mahesh Vitta and Neeroj Puchcha's roles as hero friends are impressive.
Positives: Although it is a small film, it has been shot very grandly without compromising anywhere. Shakalaka Shankar's character performance is amazing. Hero Sandeep's first movie is promising and very good. Mahesh Vitta's acting is very good. Chandni, Majili Siva, DeepthiVarma to whom they did justice to their character.
Cons : Routine story and music. This movie will definitely appeal to those who love thrillers and suspense.
Rating 3/5
An engaging story throughout.