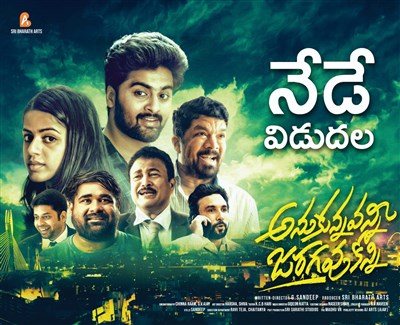 A crime comedy entertainer with a new concept Cast : Sriram Nimmala, Kalapala Mounika, Posani Krishna Murali, Babaloo , Bigg Boss Kireeti , Sneha Madhuri, lo, Gautham Raju, Mirchi Hemant.
Music : Gideon Katta.
Editor : KCB Hari.
Production: Sri Bharat Arts.
Producer and Director: G Sandeep.
story : Hero Shree Ram Nimmala(Karthik) as call boy Heroine Kalapala Mounika(Madhu) as call girl A movie with a new concept, not everything that is planned happens. The plot of this movie is about why did Karthik Madhu change their life like that, how they got stuck due to an incident in their life and how they got out of it. Posani Krishna Murali Garu, Babloo , will be a big asset of this movie. This movie is an entertaining crime comedy with the funniest plot.
Analysis: Director G Sandeep has taken the two responsibilities of producer and director and made the movie as planned. Posani Krishnamurali's performance in the second half is the highlight of the movie. It is wonderful if director Posani has used an actor like Posani Krishna Murali. Hero Sriram Nimmala gave a good performance. The heroine Kalapala Mounika acted very well even though it was her first time. Other actors Kiriti, Sneha Madhuri, Sonia Chowdary, Gautham Raju, Mirchi Hemanth did justice to their roles. The music provided by Gideon Katta is very new. Editor KCB Hari's performance is very good. The movie came with a new concept of showing the hero as a call boy and the heroine as a call girl, which has never been seen in Telugu cinema before.
Positives: G Sandeep as the producer and director with a new concept of hero and heroine as never seen before has made this movie very grand without any compromise. The performance of the actors is amazing. Especially Posani's portrayal of Krishna Murali as Nelson is good. Plus points for Posani Krishna Murali's BumchickBabloo comedy movie.
Cons : Some lag scenes here and there in first off. This movie will definitely appeal to those who love crime and comedy a lot.
Rating : 3./5