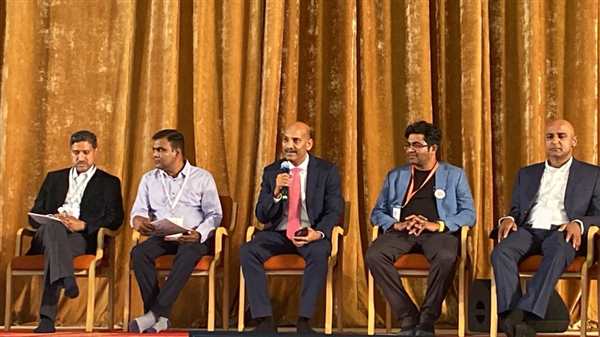 Start-ups should look to solve the real problems at the bottm of the economic pyramid. That's the important message that emerged from the recently concluded second edition of the Indian Start-up Festival (ISF) 2023. ISF 2023 saw eminent voices from over 30 sectors engaging with the start-up community through insightful keynote and roundtable addresses
One such round table was the CXO forum. We are familiar with prominent leadership roles such as CEO, COO, and CFO within every company. In a bid to contribute to the community, distinguished executives holding these leadership positions have initiated a symposium called the CXO Forum.
The visionary behind this endeavor is Sri Atluri, the Managing Director and Global Head of Enterprise Quality Engineering at BNY Mellon. The primary aim of the CXO Forum is to provide mentorship to aspiring young individuals who come up with startup ideas. This mentorship encompasses guiding them in a structured manner and assisting them in securing investment support. This is a great of accomplished individuals, who made up to the highest ranks in corporate, give back to community.
During the morning session, a panel discussion took place, followed by an evening roundtable conference where numerous ideas were deliberated upon.
Speaking about this, Sri Atluri, one of the Lifetime Achievement winners in the India Start-up Foundation, ISF 2023, said, "In startups, we see many holding a single-minded approach. If they have innovative ideas and show the roadmap of how they can grow, funding is not a problem."Continuing, he said, "They cannot maintain the same business model as they started with. They need to evolve by adopting new technologies. Otherwise, they will fade away."
Ram Puppala, an entreprenuer and a C-level executive said "early stage start-ups have to really figure out how to make money, doesn't have to be profit but quickly generating revenue and also think about the impact your idea will make an impact of the consumers of the service, product or anything that is an outcome of the idea"
Raj Allada, another Wall Street Executive, shared in connection with this, "I think evolution is very important. The focus was always on burning money, but now everything is about the value proposition. The scenario has changed. It's not just about the number of customers, viewers, and subscribers that matter, the real value and also about adopting AI and progressing in a perception game."
The CXO Forum has evolved into a significant platform for numerous Telugu youngsters who bring forth startup concepts. Their simple task is to refine their ideas, if they have any, and then connect with the CXO Forum. Through this platform, they can align their ideas on a global scale, turning them into international pursuits. Sri Atluri has been instrumental in making CXO forums in national Telugu conference like NATS and TANA in North America.
Other executives who have joined the CXO forum are Murali Vullaganti (CEO, Peopleshores), Brahmanand Reddy (CTO, Datalink Software), Barry Rudolph (Founder, FalconStar Software), Sai Gundavalli (CEO, Solix ), Ashok Chitiprolu (CEO, TechStar Group), Ram Puppala (CEO, ACI Worldwide), Raj Allada (Transformation Leader, Major wallstreet firm), Santosh Yamsani (Transformation Leader, BNY Mellon), Ajay Tiwari (Founder & CEO, Happy Locate), USS Uppuluri (Chairman, EDVENSWA Enterprises Ltd.), Soma Rao (Global Business Leader, JPMorgan Chase) among many others.