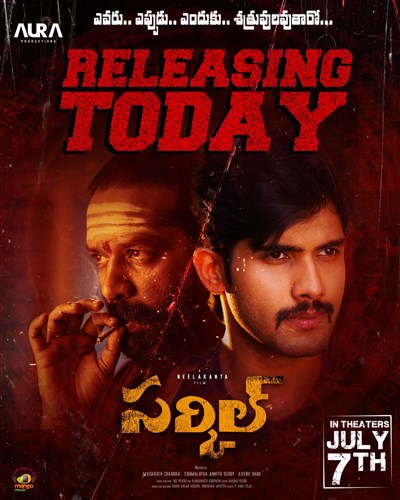 Film: Circle
Release Date : July 07, 2023
Moviemanthra.com;Rating : 3/5
Starring: Sai Ronak, Richa Panai, Arshin Mehta, Baba Bhaskar, Naina
Director: Neelakanta
Producers: M.V. Sharat Chandra, T. Sumalatha Annith Reddy, Venu Babu Addagada
Music Director: NS Prasu
Cinematographer: Ranganath Gogineni
Editor: Madhu Reddi
Circle, the latest film by acclaimed director Neelakanta, marks his return after a seven-year hiatus. Presented as an emotional thriller, the movie hit theaters today (July 7). Let's delve into the details and see how it unfolds.
Story:
The story revolves around Puttur Ganesh (played by Baba Bhaskar), a contract killer with a unique principle. When assigned a target, he offers them a second chance to rectify their mistakes and make amends with those who seek their demise. Ganesh is hired to eliminate Kailash (portrayed by Sai Ronak), a fashion photographer. The film delves into why Kailash faces a life-threatening situation and how artist Arundhuti (Richa Panai), Malvika (Neha Yellareddy), the daughter of an MP, and Rajasthani Princess Himani Rajput (Arshin Mehta) are interconnected. To know more on the same, you should watch this movie.
Performances:
Sai Ronak impresses as the fashion photographer, effortlessly portraying three different looks for the three love stories in the movie. He particularly shines in emotional scenes. Baba Bhaskar delivers a striking performance as the contract killer, leaving an impact with his memorable one-liners and expressions. Richa Panai, Nyana Yellareddy, and Arshin Mehta add glamour to the film, while Snehal Kamath and Aakanksha Gade do justice to their respective roles. The rest of the cast made their presence felt.
Technical Aspects:
Ranganath Gogineni's cinematography is impressive, effectively using different lighting techniques to match the film's mood. Madhu Reddy's editing is decent, though it could have been more refined in the second half. NS. Prasu's youthful and romantic tunes are complemented by beautifully shot song sequences. The lavish production values from Aura Productions contribute to the overall quality of the film's execution.
Plus Points:
Performances
Direction
Production values
Story
Minus Points:
Few boring scenes
Verdict:
Director Neelakanta presents an intriguing narrative that combines thrilling elements with emotional moments. The film delves into human emotions and how past mistakes can resurface to haunt individuals. Neelakanta's unique concept grabs the audience's attention right from the start, with an interesting and exciting introduction. The first half of the film incorporates romantic elements and engaging conversations between the protagonist and the killer, setting the stage for the second half. However, the latter part primarily focuses on one romantic affair. Nevertheless, the main plot eventually regains momentum and piques curiosity. The second love story featuring Nayana and Sai Ronak is decent and concise, with a logical and believable conflict between the lead pair. On the whole, the movie is engaging.
Punch Line: Circle is engaging and intriguing.