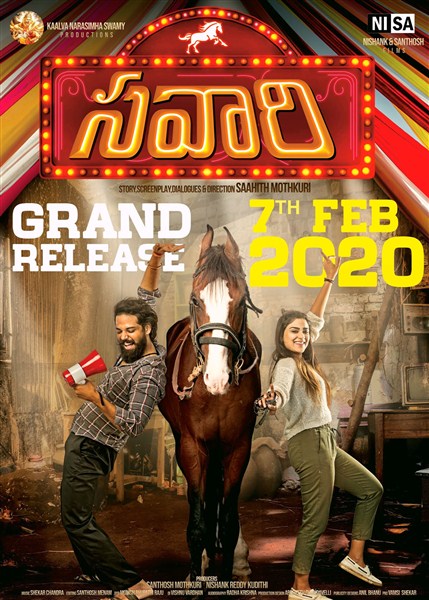 Film: Savaari
Release Date:7th February, 2020
Cast: Nandu, Priyanka Sharma, Srikanth Reddy, Sivakumar
Director: Sahith Motkuri
Producers: Santhosh Motkuri, Nishank Reddy Kuditi
Music: Sekhar Chandra
Cinematographer: Monish
Editor: Santhosh
www.moviemanthra.com;Rating: 3.25/5
Story:
Raju (Nandu) is someone who lives in a slum area with his horse. He does nothing except for going on rides with his horse. One day, he comes to know that his horse falls in danger with a rare health disease and he needs a lot of money. On the other side, he loves Bhagi (Priyanka Sharma). In this scenario, the horse goes missing. What did Raju do then? Did he save his horse? Did he end up with Bhagi? What happens in the end? Forms the story of the movie.
Performances:
Nandu who did a lot of films as an actor and supporting artist has now come up with this film and his performance is too good in the movie. The film has got a lot of scope for him to perform and he gave his best by bringing an impactful performance in the film. We have seen him in stylish roles so far but he went a bit more to come up with this film where he rediscovered himself in a big way. The film's leading lady is also very good. Priyanka Sharma is also impressive with looks as well as the performance of the movie. The emotion scenes came out well in the combination of lead pair. Srikanth Reddy who played the villain is nice. He carried his character well and the actors in his gang too did well.
Technical Aspects:
Technically, the film looks very strong. The film has got an interesting concept that worked well. The comedy and love sequences of the movie are good. The pre-climax and climax sequences also turned out well. The camera work by Monish Bhupathiraja is impressive. The visuals are nice and the emotional scenes looked good. The music by Sekhar Chandra is nice and his background score entertains too. The editing of the film is okay.
Plus Points:
Performances
Story
Comedy
Music
Minus Points:
Slow Narration
Screenplay in second half
Verdict:
Savaari is a bold slum love story that comes up with an interesting concept. The comedy of the film is the major highlight in the movie. The dialogues and emotional scenes of the film appeared nice. The film attracts everyone completely. The emotional and love scenes are good. The screenplay is neat and simple. The film has got all commercial elements that can make a film big hit. The movie connects well with youth and all audiences. With a simple love story, the makers tried their best in entertaining the audiences.
Punch Line: Savaari is an entertaining ride of love and emotions
—