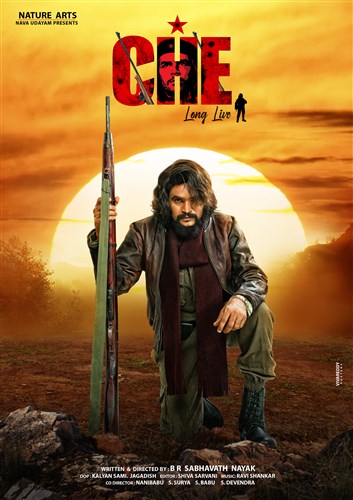 The movie "Che" is being made in Telugu based on the life story of Cuban fighter Che Guevara. Long Live is the tag line. Recently the film unit has released the trailer of this movie. BR Sabavat Naik is playing the title role and directing in the Navva Matam Samarpana under the banner of Nature Arts. The trailer of "Che" went viral on social media within hours of its release. Reviews are coming out on social media saying that watching the trailer of "Che" will give you goosebumps. The first look and teaser of the movie which has already been released has received a good response. The trailer, which has swiftly gone viral, has been lauded for its ability to evoke goosebumps, as social media buzzes with reviews praising its intensity.
This is Cheguvera's biopic, which is being made in the Indian film industry for the first time in the world after Cuba. Produced jointly by Surya, Babu and Devendra, Lavanya Sameera, Pula Siddeshwar, Karthik Nune, Vinod and Pasala Uma Maheshwar are playing key roles in this movie. Music is provided by Ravi Shankar. In a momentous occasion, the daughter of Che Guevara, Dr. Alaida Guevara, unveiled the movie's first look, extending her congratulations to the entire film unit.
Speaking about the project, director BR Sabavat Naik expressed his fulfillment in bringing to fruition a dream nurtured over two decades. He highlighted the inclusion of rare and pivotal events from Che Guevara's life, ensuring an authentic portrayal of the revolutionary hero. Naik emphasized the film's commitment to maintaining historical accuracy, stating that there was no compromise on quality, even when depicting the blindfolded conditions of those transformative days. He said that he is happy that the newly released trailer is getting a good response. Many movie celebrities are getting calls saying that the trailer is good. He said that he feels fortunate that Cheguvera's daughter Dr. Alaida Guevara released the poster of this movie. BR Sabavat Naik said that this film will be released in theaters in the first week of December.
Starring: Lavanya Sameera, Pula Siddeshwar, Karthik Nune, Vinod, Pasala Umamaheshwar, BR Sabavat Naik.
Producers: Surya, Babu, Devendra
Co Director: Nani Babu
Writer, Director: BR Sabavat Naik
Banner: Nature Arts
Publicity Designer: Viva Reddy Posters
DVP: Kalyan Sami, Jagadish
Editor: Siva Sharvani
Music Director: Ravi Shankar
PRO: Dayyala Ashok