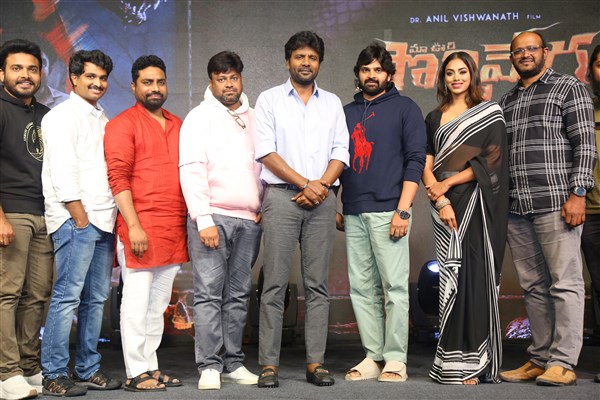 'Ma Oori Polimera 2', the sequel to 'Ma Oori Polimera', is directed by Dr. Anil Vishwanath. Satyam Rajesh and Kamakshi Bhaskarla's film was released in theatres on November 3. Produced by Gowr Kriesna, the film was released worldwide by renowned distributor Vamsi Nandipati. It has had a blockbuster run. On the occasion of the film entering its second week at the box office, the unit organized a grand blockbuster meet on Friday.
'Baby' director Sai Rajesh, who was a guest at the event, said, "I have always believed that the commercial range of horror, thriller and crime movies is limited. When Vamsi Nandipati bought the theatrical rights to 'Ma Oori Polimera 2', I wondered if he was in his senses at all. His confidence was that the film would achieve a big range. The collections have proven me wrong and proved him right. The story is the king, always. I have no doubts that 'Polimera 3' will also be a blockbuster."
Hero Sree Vishnu said, "I have known all the major actors in this movie since time immemorial. Satyam Rajesh is one of those industry colleagues who believed that I would become a hero. I thank director Anil for giving a hit to so many friends of mine. In movies, there is no difference between small and big. After the release of the movie, the audience will decide its range. 'Polimera 2' is a big movie. Some movies are good and yet they don't play in theatres. It is special that 'Polimera 2' is playing in theatres successfully at a time when the Cricket World Cup is on. This movie is definitely a must-watch movie for everyone."
Producer Gowr Kriesna said, "The reason for the success of this film is director Anil's talent. I haven't had proper success in a while. After watching 'Polimera 1', I met Anil and pitched to make this movie. The right thing happened at the right time. Vamsi Nandipati is one of the reasons why this movie is so successful today. He released this movie in a grand way. Actors and technicians have worked very hard for the film. I hope that all those who worked for this film will get many more hits."
Director Anil Vishwanath said, "Many unexpected situations were encountered during the making of this film. I marched ahead with courage and conviction. After the success of this film, my life will be different. I feel like the success of this movie is collective."
Vamsi Nandipati said that success is all about self-satisfaction. "It gives satisfaction when our conviction is proven right. That's what has happened with this movie. This success gives me a great deal of satisfaction. Our team has achieved this success by working hard. The 'Polimera' franchise will continue to thrive," he said.
Kamakshi Bhaskarla said that the success of this film is hard-earned. "My thanks to everyone who made this hit possible," she added.
Satyam Ramesh said that his aim was to make producer Gowr Kriesna's film successful. "The producer worked very hard to make the film what it is today. Thanks to Vamsi Nandipati, this movie achieved a big scale. They both are like two eyes of this movie. Director Anil's talent is immense," he added.
The event was also attended by Kushendar Ramesh Reddy, Gyaani, Chitram Sreenu, Ravi Varma, Baladitya, Rakendu Mouli, Getup Srinu and others.