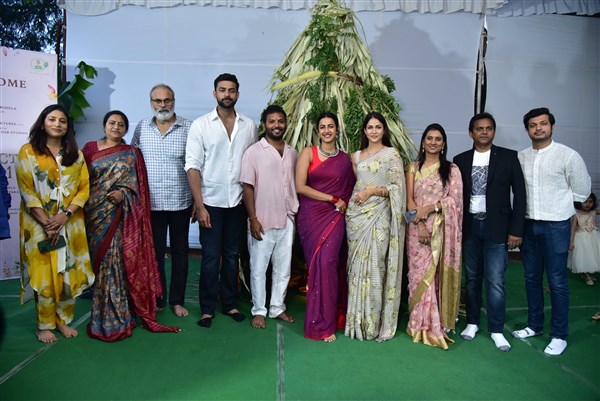 Today marked the grand inauguration of Niharika's Pink Elephant Pictures LLP and Shree Radha Damodar Studios' much-anticipated venture, referred to as Production No. 1. Annapurna Studios, Hyderabad, witnessed a ceremonious pooja, commemorating the commencement of this project. The auspicious moment saw Varun Tej initiating the shoot with the clap for the muhurat shot, while Naga Babu operated the camera, and Venky Kudumula directed the first scene.
The project boasts an ensemble cast featuring Sandeep Saroj, Yashwant Pendyala, Trinath Verma, Prasad Behara, Ishwar Rachiraju, Manikantha Parasu, Lokesh Kumar Parimi, Shyam Kalyan, Raghuvaran, Sivakumar Matta, Akshay Srinivas, Sharanya Suresh, Tejaswi Rao, Vishika, and Shanmuki Nagumanthri in pivotal roles.
Producer Niharika Konidela expressed her delight at expanding Pink Elephant Pictures from web series and short films to their inaugural feature film, jointly produced with Sriradha Damodar Studios. Embracing this new endeavor with a sense of responsibility, she conveyed her confidence in the movie's team and concept, hoping for audience support.
Yadu Vamsi, marking his directorial debut, emphasized the banner's transition from concept-driven content to a full-length feature, introducing a significant number of new talents. He conveyed his determination to live up to the opportunity and sought the audience's encouragement.
Anudeep, making a shift from a singer to a music director, shared his enthusiasm for composing songs for the film and acknowledged the trust placed in him by Niharika and the exceptional script narrated by Yadu Vamsi.
Cinematographer Raju Edurolu, in his second collaboration with Niharika, expressed gratitude for the compelling script and the chance provided by Vamsi, lauding the cast and crew.
Editor Anwar Ali extended his gratitude to the entire team, while Phani of Sriradha Damodar Studios highlighted their aim to produce content-driven films and their joy in partnering with Pink Elephant on this journey.
Jayalakshmi of Shree Radha Damodar Studios thanked the actors, technicians, and Pink Elephant Banner, expressing confidence in the entertaining script narrated by Director Vamsi.
The ceremony, steeped in tradition and optimism, marks the beginning of an exciting cinematic venture, promising fresh talent, captivating storytelling, and a fervent hope for support from the audience.
Niharika Konidela – Presents
Pink Elephant Pictures LLP
Associated with
Shree Radha Domadar Studios
CAST
CHARACTER – NAME
SIVA – SANDEEP SAROJSURYA – YASWANTH PENDYALASUBBU – TRINADH VARMA PEDDODU – PRASAD BEHARA WILLIAM – ESHWAR RACHIRAJUCHINNODU – MANIKANTA PARASUAATHRAM – LOKESH KUMAR PARIMI RAVI – SHYAM KALYAN RAMBABU – RAGHUVARAN BRITISH – SHIVA KUMAR MATTAKISHORE – AKSHAY SRINIWAS
CHARACTER – NAME
MADHURI – SHARANYA SURESHJYOTHI – TEJASWI RAO PADMA – VISHIKA FATHIMA – SHANMUKHI NAGUMANTHRI
CREW
DIRECTOR – YADHU VAMSI
DOP : RAJU EDUROLU
MUSIC DIRECTOR : ANUDEEP DEV
PRODUCTION DESIGNER : PRANAY NAINI
EDITOR : ANWAR ALI
Dialogues : Venkata Subhash Cheerla, Kondal Rao Addagalla
Associate Dialogues: Kiran Kumar Sathyavolu
EXECUTIVE PRODUCER : MANYAM RAMESH
PRO – Naidu Surendra Kumar – Phani Kandukuri (Beyond Media)
Producer's: Padmaja KonidelaJayalakshmi Adapaka