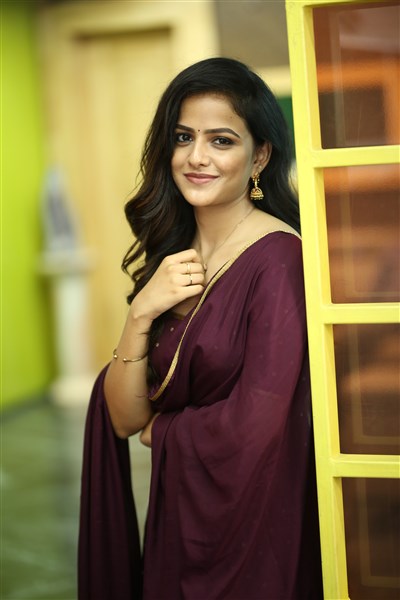 Baby is the upcoming Telugu romantic movie written and directed by Sai Rajesh, who produced the National Award winning film Color Photo. Anand Deverakonda, Vaishnavi Chaitanya, and Viraj Ashwin are the film's leads. The film is bankrolled by SKN through his production house, Mass Movie Makers. The film is releasing on July 14th.
As release date is nearing, makers are busy with promotional activities. Today heroine Vaishnavi Chaitanya interacted with media about the film and here's the transcript.
– Hi, my name is Vaishnavi Chaitanya, I was a character artist, Youtuber and an influencer. My first film is Baby and it's my debut. I got this chance from director Sai Rajesh garu.
– Every actor needs a role in which to showcase their abilities, and for me, that character is Baby. While director Sai Rajesh garu narrated this script, I was in a trance. Sai Rajesh garu is my rock; he has kept me going through all and gave me confidence.
– In terms of my role, I play a typical middle-class Basthi girl for whom leaving Basthi is equivalent to travelling abroad. After she joins, she meets a few people who affect her life in both positive and negative ways. She is a typical student who goes drastic transformation. And our intention is not to differentiate people with colour, we wanted to showcase transformation in that way.
– Music will play a crucial role in this picture. Vijay Bulganin garu provided excellent music and score. Director Sai Rajesh garu believed that debutants will give their all for the film in order to prove themselves. And his expectation came true: Baby got mesmerising tunes and score.
– I got connected to my role. When the audience sees the film, I believe they will all relate to the character, which is our team's hope. Because it happens in everyone's or people you know's lives.
– Baby is a heartfelt, emotional love story. Baby story focuses on situations and how the characters react to those situations. There is no hero in the film because situations play a significant role. Every Baby poster has a story to tell. We wanted to send a different message with that controversial poster.
– Mom and dad's eyes welled up with tears as they saw me on the screen at the 'Baby' teaser release event. Initially, all of my relatives looked down on me. However, they are now using my pictures as their phone wallpaper and WhatsApp DP.
– My ambition is to become a heroine. I used to wander around film offices hunting for possibilities when I was fifteen years old. There was no money to pay the charges. I used to borrow money from friends, family and the people I Know. After the audition they say 'we'll inform you later' and I never got a call from them. That made me cry.
– Then I realised everything and chose to do small roles on YouTube. Even though my roles in films such as 'Ala Vaikunthapuramlo' and 'Valimai' were small, I learned a lot on site. They appreciated my performance in the web series Software Devloveper and gave me an opportunity in 'Baby'. Then I got a lot of negative feedback, which I don't understand: 'How did they cast a girl who does Tiktok as the heroine?' People made fun of me. But I am very confident in myself.
– I called casting directors if I found their phone number. So, for the first time, I had the opportunity to act in a short film. I am skilled in both classical and western dancing. My entire house cupboard is filled with trophies and medals that I received. That dance got me to where I am now.
– When I arrived at the sets, I was terrified. The actors provided me a comfort zone and I was able to practise with them. We became friends over time.
– About producer SKN, Sai Rajesh garu is the type of person who will never compromise, and SKN garu is the same. Throughout this three-year journey, he had faith in the story and the crew. Also, director Sai Rajesh and SKN's friendship. He never put any kind of pressure on any of the technicians on set. Rajesh Garu had a lot of promotional ideas for the film, and he said OK for everything.
– Talking about upcoming films, she said "I prefer performance oriented roles even if it is glamour or De glamour roles. I have not yet decided on my next because currently Iam focused only on Baby. I wish that audience will like my performance in Baby."