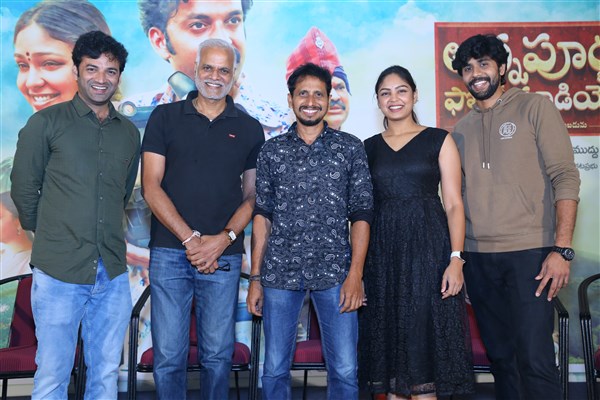 Chaitanya Rao and Lavanya starrer Annapurna Photo Studio is releasing on July 21st. The film is produced by Yash Rangineni under the banner of Big Ben Cinemas. Directed by Chendu Muddu. The film featured Mihira, Uttara, Vaiva Raghava, Lalit Aditya in other pivotal roles. The trailer of this movie was recently released by Vijay Deverakonda and it got a good response on social media. The film unit held a press meet today
Yash Rangineni said, 'Dear Comrade with Vijay started as a small film. After that, Vijay's stardom grew and became a big movie. I am making small films with my passion. I also want to do big films with big heroes. I will do it if I get that chance. I don't think that O Pitta katha is a flop. Due to Corona, it was quickly left from the theater. But it played well in OTT. After watching O PittaKatha, we made this movie just because we liked it. The story of this movie is also good. I like it. Now, no matter how big a movie is, no matter how hit it is, it doesn't play for more than a week. First we are releasing this movie in multi screens. We are showing it on single screens in some selected places. If the word of mouth is good, then we will increase the screens. If you are making a small film with new people, you will be looked down. We faced many doubts during the Pelli Choopulu. After its release, everyone came to know about its power. A small film gives me palpitations. Is the actual movie short? Is it big? Who decides. Everyone would have missed a good actor like Vijay if there was no Pelli Choopulu. We made this film honestly. I had already told the unit that we can make it with a limited budget. Everyone worked hard. That's why the movie did well. The movie is going to release on July 21. Everyone please watch it and support us..
Chendu Muddu said, 'We wanted to tell the story in a time when there was no technology or communication system. I told the story in the 80s with the intention of bringing a retro feeling. Everyone, young and old, will connect with this movie. The story is inspired by the characters I have seen in real life and the events in my town. The scenes in it are also very natural and like what happened around us. It would be a lie to say that I made it very simple. You watched a two-hour movie and I worked hard for it for two years. The whole team has done a great job. So it turned out so well. Shooting was not done in a village. I shot the film in 80 locations. The budget is also under control due to the suggestions of our producer.
Chaitanya Rao said, 'Chendu Garu has designed my character brilliantly. I have seen the movies of NTR and ANR Garu. The director explains the sensibilities of my character. It was clearly explained to me before the workshop. When I got a chance like this, I thought to myself that I would not make a mistake. I did it keeping my eyes close. Although mine is Karimnagar, I am in Hyderabad, Australia. The director said to speak in that dialect from the moment the story was told. I practiced in the workshop and director helped me. My next movies Keeda Cola, Parijathaparvam, Sharatulu Vartistai, Honeymoon Express movies are ready for release. Chendu Garu didnt watched 30 Weds 21. I got a similar character again. For me, it would be great if it was a hit formula.
Lavanya said, 'Gautami's role seemed challenging to me. Language was not a problem for me. But the director has already given inputs about the way of speaking and behavior. He advised to watch old movies. I like village girl characters. I love doing such roles. Compliments are coming that the film has been made without obscenity. We are happy to hear them," he said.