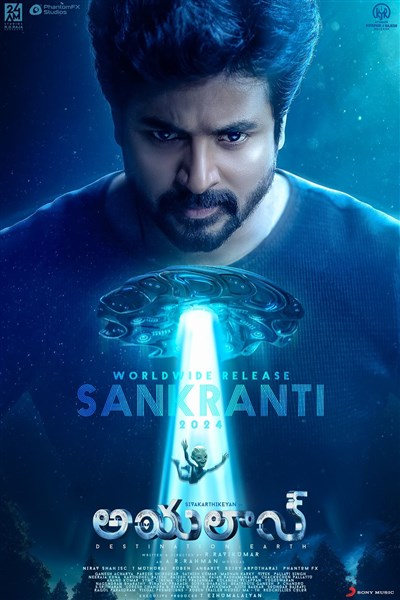 Sivakarthikeyan and Rakul Preet Singh come together for a Pan Indian movie 'Ayalan' (translates to 'Alien' in Tamil) directed by R.Ravikumar. As the name indicates, the movie is conceptually based on the extra-terrestrial creatures, jointly produced under the banners KJR Studios and 24AM Studios represented respectively by Kotapadi J. Rajesh and R.D. Raja. Oscar award winner and legendary music director AR Rahman has composed the music for this first-of-its-kind film.
Producer Kotapadi J.Rajesh said that the film 'Ayalan' will be released worldwide in Telugu, Tamil, Hindi, Kannada and Malayalam languages as a gift for popular festival in south india known as Sankranthi. . He said that the release date will be revealed very soon. Also he said, "This is a film that we have made with a lots of love and passion, though we faced some difficulties in this journey, we did not lose our heart. We made the film with persistence. I didn't want to compromise on quality. Hence, the release has been delayed a bit. Thanks to the audience for supporting us so much. The film will be beyond their expectations" he added.
Science fiction films, including films made in the background of aliens, need loads of visual effects work. The Team Worked hard for the quality of the graphics. The film team also informed that there are more than 4500 VFX shots in 'Ayalan' and this is the full-length live action film with the highest number of VFX shots in the history of Indian cinema. Phantom FX, the company that has provided visual effects for many super hit Hollywood movies, has done the graphics work including for Alien in 'Ayalan'. This is the first time that a pan India film has so many VFX shots.
Cast
Isha Koppikar, 'Sardar Gabbar Singh' fame Sharad Kelkar, senior heroine Bhanupriya, Yogibabu, Karunakaran, Bala Saravanan and others have played key roles in the movie.
Crew
Cinematographer worked for 'Ayalan'. Editor: Reuben, Poster Design: Gopi Prasanna, Production Design: T. Muthuraj, VFX : Bijoy Arputaraj (Phantom FX), Costume Design : Pallavi Singh, Neeraja Kona, Choreography : Ganesh Acharya, Paresh Shirodkar, Satish Kumar, Music : AR Rahman, Producers : Kotapadi J. Rajesh, R.D. Raja, Directed by: R. Ravikumar.