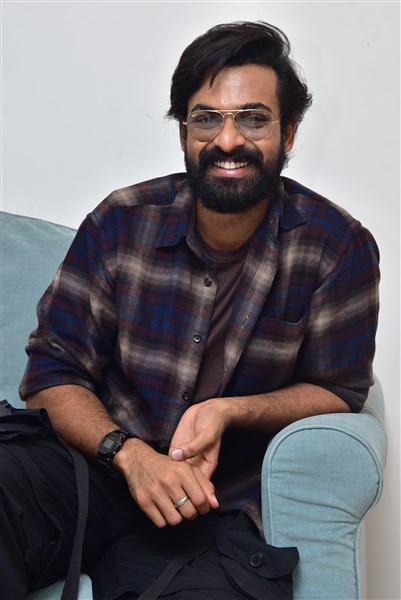 Panja Vaisshnav Tej debuted in Telugu Cinema with a national award winning film, Uppena. Now, he is coming up with Aadikeshava on 24th November 2023, worldwide. Latest Sensation Sreeleela is playing the leading lady character in the film. Suryadevara Naga Vamsi and Sai Soujanya are producing the film on Sithara Entertainments and Fortune Four Cinema, respectively. Srikanth N. Reddy is debuting as writer-director with the film.
Panja Vaisshnav Tej has interacted with media personnel to talk about the film, before the release. Here are some excerpts from his interaction.
* Panja Vaisshnav Tej stated that he did not accept Aadikeshava movie in the penchant to become a commercial star hero with one film. He stated that he likes commercial cinema and he will try all genres in that space. This film is one such that genuine attempt.
* Panja Vaisshnav Tej remembered his uncle, Powerstar Pawan Kalyan's suggestion to keep himself grounded and be an actor. He stated that Pawan Kalyan words have inspired him to take up different genres.
* He stated that while he is shooting for Ranga Ranga Ranga Vaibhavanga, Srikanth met him and narrated the story. He remembered that he had commitment with producer Naga Vamsi and the producer chose this subject and brought it to him.
* Vaisshnav Tej stated that the movie will be relatable. Also, he confirmed that he won't be hitting tens and hundreds of goons like a big star hero. He stated that the fights have been designed to be natural and like how, a young boy hits another person. While climax has been designed to be a little bit cinematic, he stated that none of the other sequences will be out of ordinary or over the top, unnatural.
* He remembered Vijay Sethupathi while talking about Malayalam Actor Joju George. He remarked that like VJS, Joju is also a foodie. He called him as a sweet and grounded person.
* Vaisshnav Tej classified the romance in the movie as innocent and cute. He stated that those sequences will leave a smile on the lips on the viewers. He stated that Sreeleela and he did rehearsals to get out the chemistry. He stated that he took few days to get the energy to play the character right.
* He stated that Sreeleela owns the sets as she arrives and that infectious energy rubbed on him as well. He stated that she used to sleep only 2-3 hours but never let that bog her down on the sets. He stated that she is highly warm and very sweet.
* Talking about the dancing with Sreeleela, he stated that Leela made him highly comfortable and she inspired him to push himself to get the moments right. He praised Shekar master choreography and master's assistant, Shekar for his support, especially, in Paris schedule. He stated that they had to finish two songs in 5 days and during the time, he loved their rehearsals and interactions.
* He thanked Radhika Sarathkumar for her friendliness, warmth and understanding nature towards him. He said that he got inspired by her professonalism and called her a "ball of energy". He stated that he was initially tentative to talk to her but she made him highly comfortable.
* He said that Srikanth Reddy has enhanced the film on screen even better than he narrated to him, at first. He also stated that he and director worked in tandem, to make scenes more grounded and relatable.
* Panja Vaisshnav Tej stated that he loved previous albums of GV Prakash Kumar. He classified him as a sweet and humble person. He also praised GV's professionalism and dedication. He stated that he loved Sittharala Sithravathi song on screen and while listening to it, as well.
*He stated that Aadikeshava has a very simple commercial cinema that will entertain audiences for 2 hours 10 minutes. He stated that people will be entertained thoroughly and they won't have complains while the conflict point will touch theit hearts and has novelty, in it.
* He stated that he is highly professional and he thinks about movies all-the-time. He remained in character to play Rudra Kaleswar in Aadikeshava as it is completely different from his real character. He thanked Sreeleela and Srikanth for supporting him in this journey.
* Panja Vaisshnav Tej also reiterated that Aadikeshava has very enjoyable point and entertains audiences throughout the runtime.