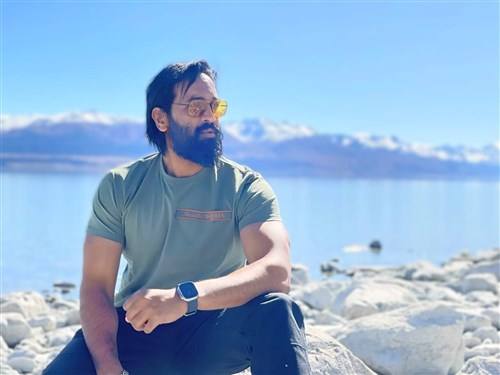 Dynamic star Vishnu Manchu is garnering a wide attention with every update of his dream project Kannappa which is being discussed at the national level. This movie, which is being mounted ambitiously, is becoming bigger with stars from different industries giving their nod to be part of it.
Mollywood superstar Mohanlal, Kannada superstar Shiva Rajkumar and Tamil senior actor Sarath Kumar are playing crucial roles in Kannappa. With the arrival of darling, Pan Indian star Prabhas, all eyes are on Kannappa. Dr. Mohan Babu is also playing a key role in this film. Vishnu Manchu will be seen in the title role.
Currently the shoot of the movie is happening in New Zealand. Almost 80 percent of the shooting will be done in New Zealand. The breathtaking action sequences being shot in some picturesque locals of New Zealand are going to be a special attraction of Kannappa.
A crazy update from Kannappa will be unleashed on the occasion of Vishnu Manchu's birthday (November 23). The news has been officially announced by Vishnu Manchu himself. He tweeted that the update will be out at 2.45 AM IST and 10.15 AM in New Zealand. And after this crazy update, the expectations on the movie will sure reach another level.
The story of the film revolves around the life story of Kannappa, a devotee of Shiva. His devotion and the power of his devotion are still memorized by all. It is known that the film was formally launched in the temple of Srikalahasti.
Kannappa is being produced on a grand scale under the banners of 24 Frames Factory and Ava Entertainment. Mukesh Kumar Singh, who made the Mahabharat serial, is making this film a visual wonder. The visuals, action sequence, the story-telling and the making are all going to remain in the history of Indian cinema.