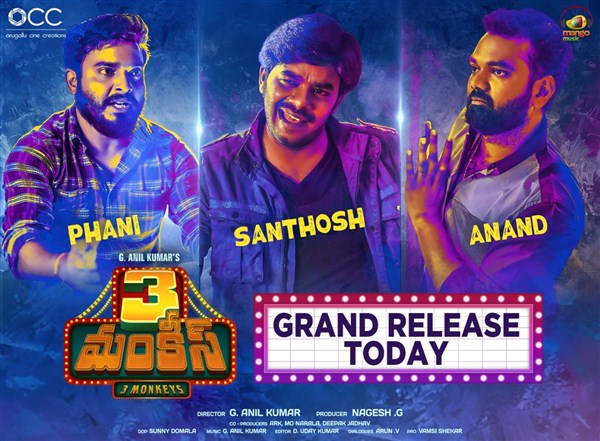 Film: 3 Monkeys
Cast: Sudigali Sudheer, Getup Srinu, Auto Ramprasad and others
Banner: Orugallu Cine Creations
Release Date: February 7, 2020
Director: Anil Kumar G
Producer: Naresh.G
Co Producers: ARK, Mo Narala, Deepak jadav
Line producer: Krishna sai
Executive producer: Sai babu vasireddy
DPO: Sunny Domala
Music: G.Anil kumar
www.moviemanthra.com;Rating.3/5
Story:
Sudheer played the role of a marketing guy Santosh in the movie and delivered an honest performance in the film. How the words told by his mother changed his life how his best friends Srinu and Ramprasad 'Phani, Anand) helped him? Is the main plot line of the film. Who is Sunny Leone? and what is her relationship with these 3? What happened to her? How these three people got involved in the murder case? What bribe did the police ask to get them out of this case? How they struggled because of it? Is the film's story.
Performances:
Popular Jabardasth comedians Sudigali Sudheer, Auto Ramprasad and Getup Sreenu collaborated are going to come up with a new comedy film titled as 'Three Monkeys' and the trio are playing lead roles in the film. The teaser and trailer of the film have already received good response from the audience. Everything in the film is showcased really well by director Anil. How did their happy life took a shocking turn and how did a small thing they did out of anger has thrown them into a bundle of problems is the story and the makers have developed the script entirely based on that.
Technical Aspects:
Music, cinematography also became plus points for this movie. Everyone can happily watch the film with their family and friends. On the whole 'Three Monkeys' is an entertaining movie with a hard hitting message. All the emotional scenes are really heart wrenching. The actors did a really good job.
Plus:Points
Performances
Story
Direction
Comedy
Minus Points:
Few boring scenes
Narration
Verdict:
The movie also give some message that "It will be charity if you donate after their request, else, it will be help". The director has delivered that message in a beautiful and emotional way. Actors like Sudheer, Srinu and Ramprasad are the biggest assets for this movie. The trio will engage the audience throughout the film with their performances in the movie. The entire first half is extremely entertaining and the audience will be laughing till the interval bang
Punch Line: 3 Monkeys is an engaging comedy entertainer