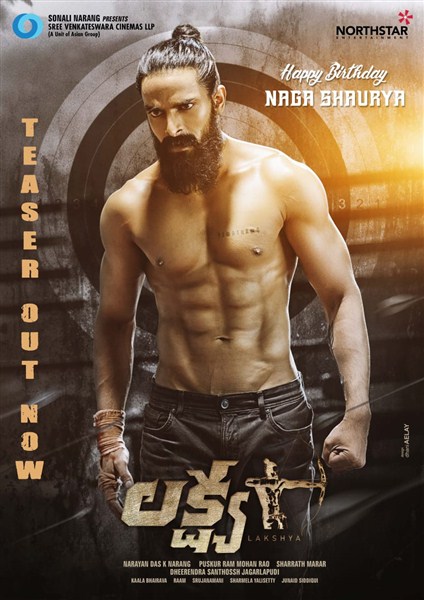 Young Hero Naga Shaurya's 'Lakshya' is Directed by Sathossh Jarlapudi, Presented by Sonali Narang, Produced by NarayanaDas K. Narang, Puskur Ram Mohan Rao, Sharrath Marar in Sri Venkateswara Cinemas LLP, And Northstar Entertainment Pvt Ltd banners. Ketika Sharma is playing as heroine in this film while versatile actor Jagapathi Babu is playing a crucial role. Naga Shaurya's 20th film, 'Lakshya' is an ancient sports-based film which is being made for the first time in India with a backdrop of ancient archery with all commercial aspects. Naga Shaurya has put in lot of efforts for a perfect toned body. His six packed super fit physique in impressive first look created a lot of buzz. Team has released the teaser of 'Lakshya' wishing Naga Shaurya on the occasion of his birthday bringing more happiness to fans. Teaser is trending in YouTube and Twitter with superb response.
'L'akshyaTeaser begins with the voice-over of Versatile Actor Jagapathi Babu saying, " Chala mandiki aatatho gurtimpu vastundi.. kaani evadi okay pudatadu aatake gurtimpu techevadu.." Teaser is quite interesting throughout projecting Naga Shaurya as a gifted archer and his journey to become a champion. Naga Shaurya is seen in two getups in the teaser hinting various shades in his character. Final dialogues by Jagapathi Babu, "PADI lechina Vaaditho pandem.. Chala pramadakaram.." is very impressive. Kala Bhairava's background score elevated and brings in more strength to this teaser. Explosive teaser of 'Lakshya' has doubled the expectations on the film. Currently the film is undergoing it's final schedule.
The film has Naga Shaurya, Ketika Sharma, Jagapathi Babu as the lead cast.
Cinematographer: Raam Reddy, Music: Kaalabhairava, Editor: Junaid, Producers: Narang Das K Narang, Puskur Ram Mohan Rao, Sharrath Marar,
Story, Screenplay, Direction: Santhosh Jagarlapudi