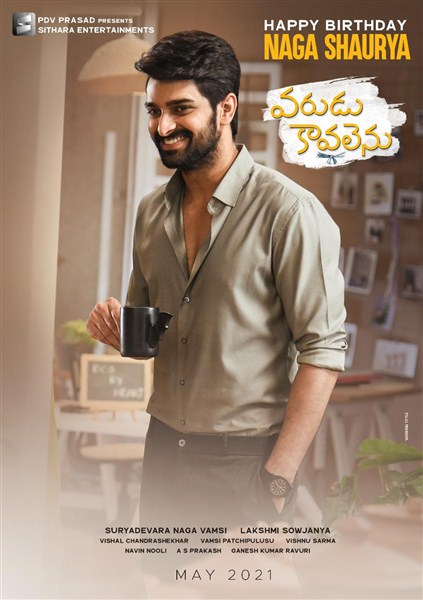 Naga Shaurya and Ritu Varma as a leading pair, prestigious production company Sithara Entertainments movie 'Varudu Kaavalenu' teaser release.
Varudu  Kaavalenu"…! Happy Birthday wishes to our hero Naga Shaurya, a visual treat released by the film unit.
Naga Shaurya looks so handsome in the teaser. Prestigious film production company 'Sithara Entertainments' young hero Naga Shaurya, gorgeous heroine Ritu Verma introducing debutant director Lakshmi Sowjanya making a movie 'Varudu Kaavalenu'
Our charming hero Naga Shaurya's birthday today (22-1-2021). On this occassion 'Varudu Kaavalenu' film unit has released an interesting teaser. In the teaser it is shown that our charming hero is getting dressed up in more style and elegant way. At the end of video it will be known that May end 2021 would be the release. Like before this teaser also carries an interesting background music by Vishal Chandrashekhar.
Earlier while releasing the title an official video has been released. That trailer also had more beautiful visuals of our charming Hero Naga Shaurya and elegant beauty Ritu Verma. For this small byte Vishal Chandrashekhar's music took it to next level and people enjoyed the music and got very well response. Then released the 2021 new year wishes video, another teaser has been released. In that teaser Hero Naga Shaurya and Ritu Verma looked very nice as a couple and got excellent response from the public on social platforms as well as in media. Now the shoot schedule is happening in a brisk pace. 'Varudu Kaavalenu' story, screenplay, dialogues, songs and emotional scenes between lead characters according to the story will definitely entertain all kind of audiences says director and producer.
Naga Shourya and Ritu Varmaas a leading pair, Nadiya, Murali Sharma, Venela Kishore, Praveen, Ananth, Kiriti Damaraju, Rangasthalam Mahesh, Arjun Kalyan, Vaishnavi Chaitanya, Siddiksha are the main leads.
For this movie
Dialogues: Ganesh Kumar Raavuri,
Cinematographer: Vamsi Patchipulusu,
Music : Vishal Chandrashekhar
Editor: Navin Nooli
Art: A.S Prakash
Pro: L.Venugopal
Presents by: P.D.V Prasad
Produced by: Surya Devara NagaVamsi
Story – Screenplay – Direction: Lakshmi Sowjanya
PRO ; L. VENU GOPAL