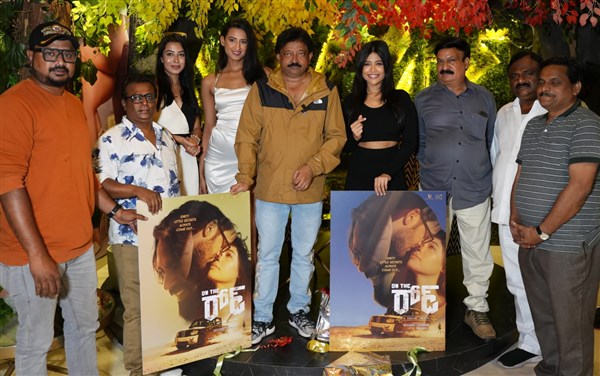 "On the Road" is India's first film shot entirely in Ladakh valley, set to release across Telugu, Hindi, Kannada, Tamil, and Malayalam languages.
yesterday, acclaimed filmmaker Mr. Ram Gopal Varma (RGV) unveiled the film's first look posters and trailers. He praised the stunning visual mood and slick look, congratulating the team for their hard work and expressing his best wishes for success. The film is directed by Mr. Surya Lakkoju, who has collaborated on multiple projects with Mr. Ram Gopal Varma in the past.
Renowned film producer and Vice President of the Telugu Film Chamber of Commerce (TFCC), Mr. Mutyala Ramdass, associated with the project to supervise the film's release. He stated that the trailer and film are distinct and expressed hope for a successful reception. Produced under the banner of 'SPL Pictures' by Mr. Surya Lakkoju and co-produced by Mr. Rajesh Sharma.
Director Surya Lakkoju expressed his fondness for the Western film genre and chose to narrate a simple story within the limitations of his resources, against the breathtaking landscapes of Ladakh valley.
Primarily a road trip thriller, the storyline follows a humble man who joins a couple on a secured road trip, triggering unexpected chaotic events.
Male protagonist Raghav shared his challenges in portraying a complex character, emphasizing his meticulous approach to bringing the role to life, resulting in a satisfying output.
The female lead, Swati Mehra, expressed her excitement about her first film experience, shot beautifully in Ladakh. Despite tough filming conditions with low oxygen levels, she faced health issues during the climax scenes. After seeing the final output, she eagerly anticipates the audience's reception.
From the producer's team, R Subramanyam (Bobby) confirmed that the first copy of the film is out, and the censor work is currently in process. We are planning to release the film in November 2023.
—-
CAST :
RAGHAV TIWARI
SWATI MEHRA
KARN SHASTRI
RAVI SINGH
RAHUL KUMAR
SS ANGCHOK
CREW :
Writer & Director : SURYA LAKKOJU
dialogues : Srinivas Komanapalli
dop : GIFTY MEHRA
music : Navin Kumar / Surbhit Manocha
editor : MANDAR MOHAN SAWANT
Art director : RAHUL KUMAR
Action director : Gopi
sound designer : CB RAJU
PRO : Madhu VR