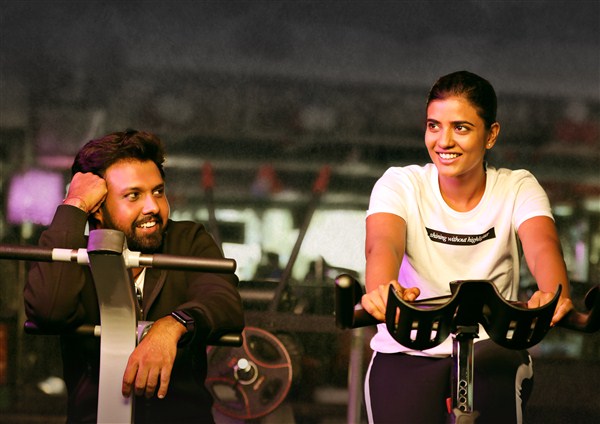 This film is the first under the Adhiroh Creative Signs banner . The hero of the film is G Uday Shankar ( Aatagadhara Shiva ) and the heroine is Aishwarya Rajesh ( Nawab , Kanaa , Vada Chennai ) who is the daughter of yesteryear actor Rajesh .
The director is N V Nirmal Kumar who created ripples with his much acclaimed debut Doctor Salim .
The producers of the film G Sriram Raju and K Bharat Ram officially have announced that the film is ready for release on Dec 6th .
The team of MISMATCH thank noted director Krish for unveiling the first look of the film and actor Victory Venkatesh for launching the teaser .
The hero of the film G Uday Shankar thanked the producers for giving him an opportunity to act in the film . He further appreciated the novel story given by veteran writer Bhupathy Raja . He explained that the vision brought in by the director would greatly enhance the quality of the film. Uday Shankar said that it was a fun experience working with the talented actress Aishwarya Rajesh .
He further expressed sincere thanks to the media for their support and sought the blessings of the audience for the film which is releasing on Dec 6th .
The Heroine Aishwarya Rajesh said that she accepted the film because it was a must do subject . The director has a great job . She felt that her role in the film would be appreciated for its uniqueness.
The writer Bhupathy Raja expressed thanks to the producers and the director for accepting and presenting his story.
The director NV Nirmal Kumar said that the roles conveyed by the hero and heroine in the film were very fresh . He expressed thanks to the producers for launching him in the Telugu Industry and said that he hoped to please the Telugu audience with his maiden effort.
Adhiroh creative signs LLP
'MIS(S)MATCH:
Cast:
Uday Shankar,Aishwarya Rajesh,Pradeep rawath, Sanjay Swaroop,Master Adhiroh,Naga Mahesh,Ravulapati venkata ramarao.,Malakpet shailaja,Badhram,Roopa Laxmi,Sandhya Janak,Sharanya,Padma Jayanthi,Laxman,Munna.
Technicians:
Ganesh chandrra(DOP),Story, screen play: Bhupathi Raja,Music: Gifton Elias,Dialogues: Rajendra Kumar, Madhu,Lyricists: Sirivennela Seetharam Shastri ,Suddhaala Ashok Teja, Dharma Teja,Editor: SP Raja Sethupathi,Dance master: shiva shankar, Fight master: Vijay
Director: NV. Nirmal Kumar
Producers: G srirama raju, Bharath ram
"MIS(S)MATCH TEASER