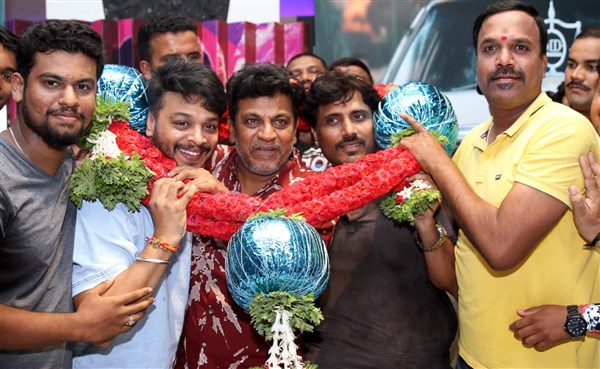 Karunada Chakravarthy Shiva Rajkumar's Pan India Action Spectacle 'Ghost' is being made as High Voltage Action Thriller. Director Srini is crafting the film as big daddy of all action films. Popular politician and producer Sandesh Nagraj is bank-rolling this biggie on a prestigious manner under his Sandesh Productions. 'Ghost' is gearing up to hit the screens globally on 19th October for Dussehra in Kannada, Telugu, Hindi, Tamil, and Malayalam languages.
On October 1st, makers released the much anticipated trailer of 'Ghost.' SS Rajamouli has unveiled the trailer in Telugu via his social media handles. The Trailer is full of action with tremendous background music. It gives a peek into the massive world built for the 'Ghost'. Shiva Rajkumar 's magnetic screen presence along with director Srini's vision elevating him to another level is a treat to watch. The dialogue 'Nenu Normal Ga Evari Joliki Vellanu, Odipotanane Bhayam Kaadu. Nenu Velite Ranaramgam, Maranahomamgaa Marutundi' reflects Baap of Masses Shiva Rajkumar's persona in the film. Music Director Arjun Janya has provided electrifying background score for the trailer cut. Young Shivanna shots are a feast for his fans. The trailer has further raised the hype about the film.
Popular Bollywood distributor Jayantilal Gada of Pen Movies has acquired theatrical, dubbing, digital rights of 'Ghost' for a fancy rate for Hindi reflects the craze of the film. The crew of 'Ghost' comprises top technicians. Dialogues by Masthi and Prasanna VM. Music is composed by popular music director Arjun Janya. Cinematographer Mahendra Simha's captivating visuals promise to take the film a notch higher. Production Design is by Mohan B Kere. PRO, BA Raju's Team will be doing Telugu version PR work 'Ghost' will be released in Kannada, Telugu, Tamil, Hindi and Malayalam languages produced by top production house Sandesh Productions.
Cast :
Shivarajkumar, Anupam Kher , Jayaram , Prashanth Narayan , Archana Jois , Satyaprakash, Dattanna and others
Crew:
Production house: Sandesh Productions (31st Movie)
Presented by: Sandesh Nagaraj (MLC)
Producer: Sandesh N
Story & Direction : Srini
Music: Arjun Janya
Cinematography: Mahendra Simha
Dialogues: Prasanna VM,Maasti
Action choreography- Chethan D'Souza , Venkat(Hyderabad) , Arjun Raaj, Mass Madha
Editing: Deepu S Kumar
Production Design: Mohan B Kere
VFX Supervision- Mohammad Abdi
VFX: Asoo Studios(Tehran)
Colorist: Amir Valikhani
DI Studio: Future Age studio
Sound Effects: Rajan
DTS Final Mixing: Manjari Studios
Post Production: PRK Studios
Co-Direction: Amoghavarsha, Prasanna V M
Direction Team: Kiran Jinkal, Srinivas HV and Manju HG
Drone Camera : Raj Mohan
Camera Team: Manu Prasad , Suresh and Nivas
Associate Editor: Mahesh
Online Editing: Charan
Additional BGM Inputs: Agastya Raag
Costumes: Shantaram,Bharath Sagar(Shivarajkumar)
Makeup : Chidanand(Prosthetic); Honne Gowdru
Manager:Suresh K Mysore
Assistant Managers: Rakesh Rao, Karthik NK
Cashier:Prasad BN
Publicity Design: Kaani Studios
PROs: Venkatesh and BA Raju & Team
Digital PROs – Sebatina, Satish
In-film branding: Archana Dinesh
Marketing – Shruti iL, Santosh Nandakumar,Nisha Kumar,Raghavan Lakshman
Digital Marketing – SIL Studios