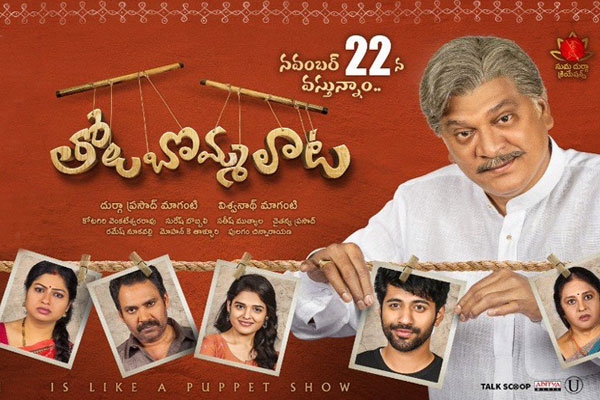 Movie: Tholubommalata
Presents: Aishwarya Maganti
Banner: Suma Durga Creations
Producers: Durga Prasad Maganti
Written & Directed by Viswanath Maganti
Editor: Kotagiri Venkateshwara Rao
DOP: Satish Muthyala
Music: Suresh Bobbili
Starring: Dr. Rajendra Prasad, Vishwant Duddumpudi, Harshitha Chowdary & Others
Language: Telugu
Release Date: November 22, 2019
www.Moviemanthra.com:Rating: 3.5/5
Story:
Rishi (Vishwant) and Varsha (Harshitha) wants to marry each other. They like each other from childhood and even work in the same office. But, the parents of the couple are not in good terms. Hence, they approach their grandfather Somaraju aka Soda Raju (Rajendra Prasad) to ask him to set up their match. But, he dies even before he sets up the match. At the same time, Rishi and Varsha also part ways. What happens then? What happens to their love story? Forms the story of the movie.
Performances:
Rajendra Prasad is the major highlight of the movie. The actor played his part pretty well in the movie. He has given his best and entertained everyone with multiple shades to his character. Rajendra Prasad's presence is very much impressive. Young actors Vishwant and Harshitha Chowdary are also good in the movie. Both have played good parts and their chemistry on the screen is nice. Vishwanth is good with his looks while Harshitha is charming on the screen. Devi Prasad played a key role in the movie and his performance also impresses. The other actors like
are good and they all made their presence felt.
Technical Aspects:
Aishwarya Maganti presents the movie while Durga Prasad Maganti produces it. Viswanath Maganti is the writer and director of the film. It looks like he is a part of the production too. He maintained everything perfect. The writing is neat and the dialogues are nice. The production values of Suma Durga Creations are rich. The editing by Kotagiri Venkateshwara Rao is nice and he is good with his job. Satish Muthyala delivered wonderful visuals for the film. Suresh Bobbili's music is nice and his score came out well. The other people in the technical team have given their best for the project.
Plus Points:
Story
Screenplay
Performances
Emotional Connect
Minus Points:
Some lengthy drama scenes
Verdict:
The film has got some amazing moments which really worked big time. The emotional things are told nicely and they are the best part of the film. The movie also raises some important issues and concerns. At the same time, the story takes place in a less time frame, and that is very interesting too. The story was narrated nicely and the screenplay is good. The characterizations of the actors will impress us. The film has got a decent start and the director tried to take the things slowly and smoothly. The soul of the movie is pretty much in tact with the way it was conveyed. The comedy is good and Rajendra Prasad is a major highlight of the movie.
Punch Line: A feel-good family-entertainer