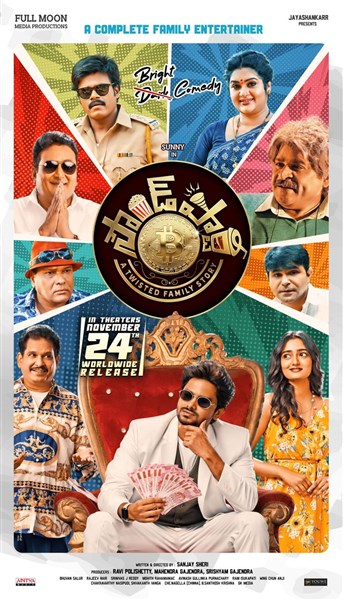 This comedy entertainer is set to be released on November 24
Bigg Boss Telugu 5 title winner VJ Sunny's upcoming movie titled 'Sound Party' is up for theatrical release on November 24. Starring Hritika Srinivas as the heroine, the film is Full Moon Media Productions' maiden venture. Director Sanjay Sheri has made a delectable comedy full of youthfulness. Brimming with new-age humour, the entertainer is produced by Ravi Polishetty, Mahendra Gajendra, and Sri Shyam Gajendra. Jaya Shankar has presented the movie, whose trailer has created enough buzz.
The fun-filled trailer is enough to prove that the film is set to become a commercial hit. The trailer for 'Sound Party' was released on Thursday and has since been talked about for its witty one-liners and the comedy timing of its lead cast. At two and a half minutes, it never stops from tickling the funny bone.
The dialogues between hero VJ Sunny and Sivannarayana are crazy and cheery. "These days, youth are running after Jio and Oyo," says Sivannarayana, displaying his inimitable style. Besides the duo, the comedy generated by Saptagiri, '30 Years' Prudhvi and the rest of the comedians are going to bring the roof down. The music by Mohit Rahmaniac and the cinematography by Srinivas Reddy, going by the the trailer, are remarkable," the makers said.
'Sound Party' has been made as a thorough family entertainer targeting all sections of the audience at a time when the audience's tastes are ostensibly driven by comedy and family-friendly elements. With punchy comedy, family scenes and more, 'Sound Party' looks to possess sound content.
The film's big release is scheduled to take place on November 24.
Cast:
VJ Sunny, Hritika Srinivas, Sivannarayana, Ali, Saptagiri, '30 Years' Prudhviraj, 'Mirchi' Priya, Manik Reddy, Ashok Kumar, Kadambari Kiran, 'Gemini' Suresh, Bhuvan Saluri, 'I Dream' Anjali, Vasu Inturi, Chalaki Chanti, Prem Sagar, RJ Hemanth, Shashank Mouli, Trinadh, Krishna Teja and others.
Crew:
Director of Photography: Srinivas Reddy; Editor: G Avinash; Music Director: Mohit Rahmaniac; Lyricist: Poornachari; Production Designer: Rajeev Nair; Co-Writers: Patel Nandurka, Sundar Palutla; PRO: GK Media; Chief Co-Director: Chinna; Co-Director: B Santosh Krishna; Associate Directors: Yashwanth Valaboju, Krishna Chaitanya T; Assistant Directors: /Yash, Dilip Kumar Raju, Yuvan Phanindra S: Line Producer: Sivakanth Vanga; Executive Producer: Bhuvan Saluru; Producers: Ravi Polishetty, Mahendra Gajendra, Sri Shyam Gajendra; Presented by: V Jayashankar; Written and Directed by Sanjay Sheri.