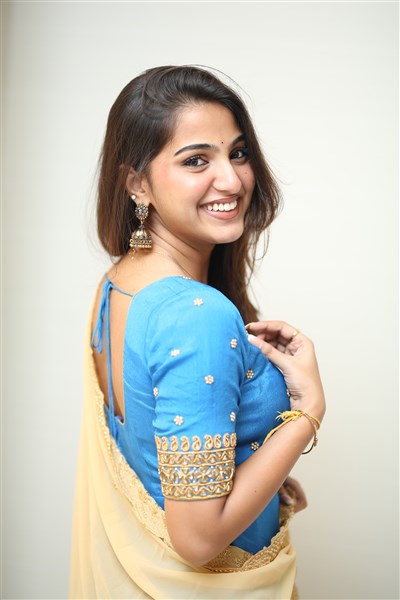 The movie 'Slum Dog Husband' starring Sanjay Rao and Pranavi Manukonda. This movie which started as a small movie is going to be released by a big production like Reliance Entertainment. Produced by Mike Movies banner, the film is directed by dashing director Puri Jagannath disciple Dr. AR Sridhar. Produced by Appireddy and Venkat Annapareddy, this film is going to release on July 29. On this occasion, the heroine interacted with the media about the film.
She said "I love acting since childhood. I used to recite the Anushka gari dialogues from the movie Arundhati while standing in front of the mirror. I love her acting and she is my favorite. My family encouraged me a lot. I started giving auditions from a young age. Got good recognition with the routine love story, Uyyala Jampa. Got good offers as a child artiste. I have done lead in serials as well. But I like movies. That's why I came here. I also acted in Kalyan Ram's Amigos. I got an offer from Mic TV from the reels I made. I auditioned for this film.
The Slum Dog Husband title seemed very new. The story is also new. I read the entire script and I was laughing the entire time. I never got bored. Emotions are high in this movie. The director has balanced the emotions along with the fun ride. My role is not like regular heroine character. All kinds of emotions are involved. That's why I made this film. It was my first film and I was a bit nervous.
I am happy to get a film opportunity under such a good banner. I worked with big artists in my first film. I am glad to find such luck.
I am now doing my final year of my degree. Everyone is doing Reels on Instagram right? I thought why not? After I started posting, I got more support from people. That's when I got the most reach.
There is a difference in acting for serials and movies. Drama should be more in serials. Movies should be realistic. I have experience with both.
Doing movies with stars scares me. I will do the scenes in the first two takes. I will not take more than that.
I acted very freely and naturally with Sanjay. We acted very comfortably. We both acted naturally.
I consider it a big plus to be a Telugu girl. The nativity we have is special. Those who come from other languages do not. Apart from regular characters.. I think the roles I play should be given priority. If the character demands, I will play glamour or de-glamour. Now all my focus is on movies