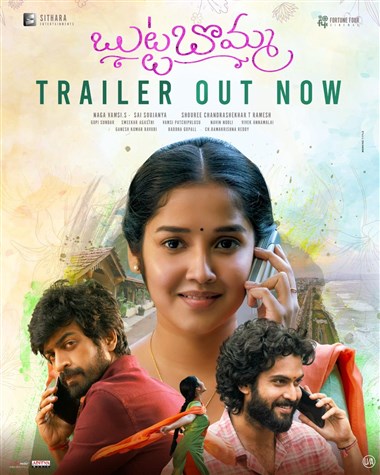 Sithara Entertainments, the leading production house behind some of the biggest Telugu films in the recent times, is teaming up with Fortune Four Cinemas for a rural drama titled Butta Bomma. Anikha Surendran, Surya Vashistta and Arjun Das play the lead roles in the film directed by debutant Shourie Chandrasekhar Ramesh. Butta Bomma will hit screens across the globe on February 4, 2023. The film's theatrical trailer was launched by 'Mass Ka Das' Vishwak Sen today.
The trailer introduces you to the world of the protagonists in Araku while they lead a simple, contented life. Satya, a young girl in her teens, falls in love with an auto driver, with whom she communicates over a mobile. The latter too is smitten by her voice and they do their best to take their relationship forward without the knowledge of their near and dear. However, there's a twist in the tale with the arrival of the antagonist.
The antagonist says that his battle is equally personal and political and he looks keen on settling scores. The auto driver warns Satya that he will keep messing around with their lives. The lives of the couple are in danger and they have little control about it. Is there a happy ending in store? Anikha Surendran's appealing girl-next-door presence, the expressive Surya Vassishta and Arjun Das as a conniving baddie come up with realistic, relatable performances that pique a viewer's curiosity.
Vamsi Patchipulusu's surreal cinematography, sparkling dialogues by Varudu Kaavalenu-fame writer Ganesh Kumar Ravuri contribute to the impact of the trailer. Composer Gopi Sundar's stirring score enhances the musical appeal of the film as well. It's certain that viewers are in for a rural drama with a unique twist and a capable cast and crew.