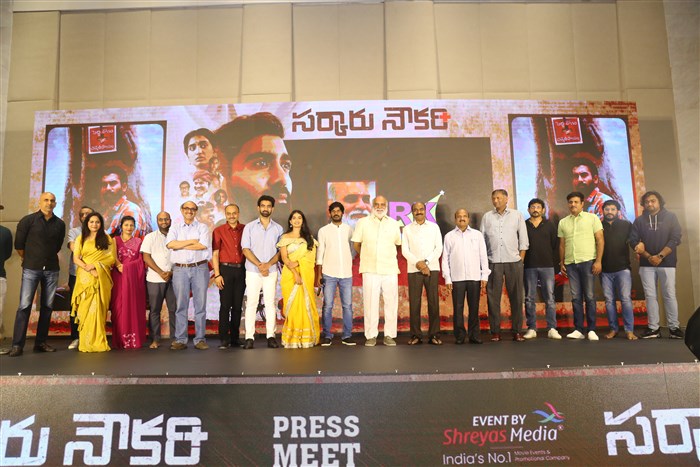 Director Raghavendra Rao's production company RK Tele Show celebrated its 25th anniversary in Hyderabad. In this event, the teaser of the movie "Sarkaaru Naukari" featuring Akash, son of popular singer Sunitha, was released. Bhavna Valapandal is playing the heroine in this film directed by Ganganamoni Shekhar. Producers Suresh Babu, Mythri Movie Makers Naveen Yerneni, TG Vishwa prasad, Prasad Devineni, Shobhu Yarlagadda and others participated in the 25 years celebration of RK Tele Show. On this occasion,
Producer D. Suresh Babu said – Congratulations to Raghavendra Rao garu who completed 25 years as a producer. He gave break to many people like Rajamouli through RK teleshow. There are many artists and technicians in it. My wishes to all your team.
Producer Shobhu Yarlagadda said – I was happy when I got to know that the RK Teleshow celebrating 25th anniversary. It is through this organization that we started production of Shanti nivasam serial. After that we established Arka Media with the experience given by RK Tele Show. Congratulations to Raghavendra Rao garu, Madhavi, Padmaja and the rest of the team.
Prasad Devineni said – We are proud of Raghavendra Rao garu's achievements. We try to be like him and achieve like him in life.
Director Ganganamoni Shekhar said – I did a web series called Panchatantra Kathalu in Aha OTT. I never imagined how many people it would reach. But one day Raghavendra Rao called me and said to come to his office. I went there and met the legend, I told Raghavendra Rao garu how I started and ended Panchatantra stories. I was surprised. I understood that if our effort is sincere, it will reach somewhere. He liked it when he heard a one-line story. They said that they will do it in our production immediately. I would like to thank Raghavendra Rao for giving me the opportunity to do Sarkaru Naukari.
Producer TG Vishwaprasad said – Raghavendra Rao garu is our inspiration. I am a fan of NTR and Chiranjeevi garu. Raghavendra Rao gave them the best movies. Not only them but many stars have got the biggest blockbusters. Sarkaaru Naukari is a different movie if you look at the different genre movies he has done. I saw this movie. It will get National Award for sure.
Singer Sunita said – I have sung many songs in Raghavendra Rao garu's films. It was emotional to participate in this program today. We have dubbed and sung songs in this company, this is like a home banner for us. Even after receiving many awards including Nandi Awards, I was not so emotional. It is emotional to speak on this stage today. My heartiest congratulations to all the team of RK Tele Show. Raghavendra Rao produced the movie Sarkaaru Naukari introducing my son as a hero. My son is not only a good actor but also a person with culture and good manners. When Raghavendra Rao told him that his future and career would be good, it was the best compliment I received in my life. This may be the happiness that comes when children grow up. I sang a promotional song in this movie. The movie Sarkaaru Naukari is going to be good.
Producer Naveen Yerneni said – Raghavendra Rao garu is my all time favorite director. His many films like Vetagadu and Adivi Ramadu inspired me to enter the film industry. My congratulations on the anniversary of your production company RK Tele Show. Proud to launch the song in your movie.
Heroine Bhavana Valapandal said – I worked as a CA in a corporate company for four years. But I was interested in acting. I joined theater arts along with dance training. At home they were afraid of me going to the film industry. But I thought who would give me a film opportunity. But when Raghavendra Rao selected me in this movie, I got confidence. I realized that someone like me can dream big. My friends who are doing theater arts also got hopes of becoming a heroine. Raghavendra Rao's interest in the film has not waned yet. That's why opportunities are coming for new talent like us.
Hero Akash said – Thanks to Raghavendra Rao garu for introducing me as a hero. Congratulations on 25 Years of RK Tele Show. I have been interested in acting since childhood. Having interest is not enough, I need people who give me opportunities. Such an offer was given by Raghavendra Rao. Our director Shekhar believed in me for Sarkaaru Naukari. I have to thank our entire team. Thanks to all the elders who came to bless us. My mother is the reason why I am on this stage. She is everything to me.
Writer BVS Ravi said – Raghavendra Rao introduced many new people through RK's Tele show. Congratulations to all the team in this organization. If he starts any work, he will not stop until it is successful. I saw the movie Sarkaaru Naukari. It was very good. Best wishes to the team of this movie.
Music director Sandilya said – I never dreamed that I would work as a music director for Raghavendra Rao garu's film. My mother will be very happy to see me on this stage. We made good music. Happy to work with Suresh Bobbili garu.
Music director Suresh Bobbili said – We grew up watching Raghavendra Rao garu's films. I was very scared when I met him, but after meeting him, I felt that he is so friendly. Raghavendra Rao sir is a good hearted person. I had a great feeling after watching this movie. I scored the background with that feeling. Director Shekhar has made a wonderful movie. Akash's acting is very good. We are going to come to you with a good movie called Sarkaaru Naukari.
Director Raghavendra Rao said – I started RK Tele Films to support new talent. Congratulations to all the team who have been traveling with us for 25 years. We wanted to invite everyone to this program but could not. Many big producers on this stage are saying that they got inspired after watching my films. You are doing very big films. If I occasionally do small films and give opportunities to new talent, it will be a continuation of my efforts over the years. We have a lot of young talent in our company. Hope you give them opportunities in the small films you do.