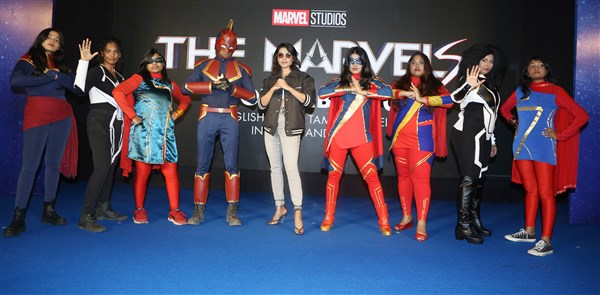 This Diwali, it's time to go Higher, Further, Faster, Together as the much-awaited Marvel Studios' THE MARVELS releases on 10th November, promising intense action, adventure and FULL-ON Family Entertainment this festive season! With anticipation rising high for one of the biggest Diwali films this year, superstar SAMANTHA added to the fanfare with the launch of a special exclusive video for Indian fans at a grand event held in Hyderabad and announced that the advance bookings will open across the country from tomorrow, 4th November across all formats!
After her memorable association with Marvel Studios for 2019's blockbuster hit Captain Marvel, Samantha, who has always been a true-blue super hero fan returned to welcome audiences in her inimitable style to join her excitement for the film. As Samantha unveiled the special video for 'The Marvels' in Hyderabad, the actress also channelled her inner superhero and struck a power-pose with special fans and cosplayers who brought their A-game!
Sharing her excitement about The Marvels and her love for Captain Marvel, Samantha said, "Captain Marvel has always been one of my most favourite superheroes and Avenger, I am thrilled to associate with Marvel India once again for this epic Diwali entertainer that has not just one, but three powerful superheroes this time fighting the ultimate battle of Good vs Evil! The Marvels looks like an epic action-packed entertaining ride at the cinemas, and I just can't wait to watch it on the big screen this Diwali!"
Link:
Marvel Studios' "The Marvels" hits Indian theatres this Diwali on 10th November in English, Hindi, Tamil and Telugu.