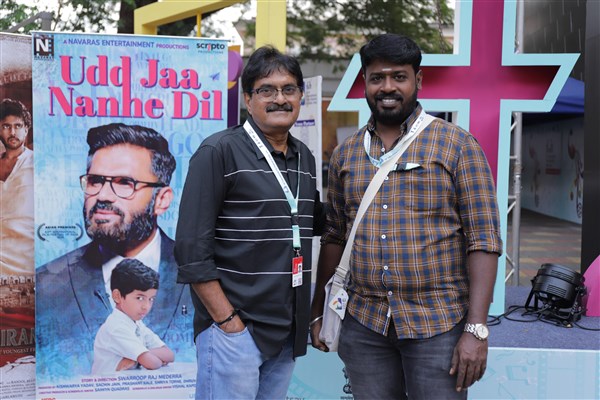 Renowned Telugu producer 'Sravanthi' Ravikishore is debuting in Tamil cinema with Kida which is dubbed in Telugu as 'Deepavali' and the film is releasing in both languages on the 11th of November. On this occasion, the director of the film, RA Venkat has addressed the media and revealed promotional details about the rural drama which has Poo Ramu, Kali Venkat and others in the lead roles. Here's a transcription of his media interview.
Tell us about yourself?
I'm from Tamil Nadu. I come from a village named Ramanathapuram, Madurai. I lost my father when I was a child and was brought up by my grandfather, grandma, and my mother.
How did films happen?
I had interest in filmmaking and came to Chennai in 2023 to pursue the same. I started off as an office boy at the office of a director named Ezhil and that's how it started. Then I worked as assistant director and associate director in association with other directors. I developed knowledge on crafts and techniques in filmmaking.
How did Deepavali happen?
Regardless of the scale and grandeur of the film, the thing that strikes a chord with the audience is the emotional core. In case of Deepavali, the core revolves around a grandfather, his grandson and a goat. It comes with intense emotions.
How did 'Sravanthi' Ravikishore garu came on board for this film?
After writing Deepavali, I narrated it to producer Chukkapalli Venu sir whom I knew and he referred me to Ravikishore sir. I then sent a voice recording of the script and he readily signed the project. I was pleasantly shocked after knowing a top producer like him signed my film. I couldn't believe it for a while as I wasn't expecting a top producer who works with star heroes has given me a chance. I am delighted that Ravikishore sir is debuting in Tamil with my film.
How was it to direct a film for the first time?
I knew the craft well as I had 10 years experience in the field. The producer gave me another responsibility apart from direction. He asked me to fix the remuneration of the actors and crew on my own. And when I told him the amount, he used to transfer the money without any questions. He used to supervise the project and give us all necessary support. I understood how he became a top producer. A director can work confidently under a producer like him.
What about critical appreciation for Kida – Deepavali?
'Deepavali' was sent for international film screenings and it received standing ovation at the International Film Festival of India, Goa and the 20th Chennai International Film Festival where it won Best Film and Best Actor awards. A woman watched my film at this screening and she cried and told me it reminded her of her family.
How did your family respond to the film?
My mother started crying after watching the film as she felt it reminded her of her husband, my father. Many people got emotional after watching it and this is a great experience for me as a director.
Any real life inspirations in the story?
This isn't my real life story. But the characters of grandfather and grandma are inspired from my own grandpa and grandma. Poo Ramu garu died before the film's release but he appreciated me after the dubbing session. My grandma has a character based on her but sadly for me, she too died before the release. This film has a lot of emotional connect for me.
It's been 20 years in the film industry, how do you feel now?
This is an emotional journey that cant be explained in words. I would like to thank everyone who supported me in the process. My family holds a special place in my heart and this is one for them.
What about the next film?
I prepared another emotional subject and pitched it to Sravanthi Ravikishore sir. He asked me to deliver the full script. We are planning to do it with a star hero. More details will be out once full script is locked.
—
PRO !
Pulagam Chinnarayana