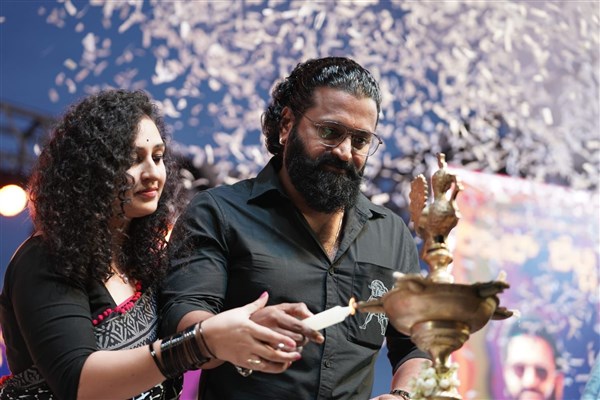 Actor, director Rishab Shetty, whose 2022 film Kantara put him on the pan-India map, is working hard to bring out the next part of the movie. As he celebrates his 40th birthday on Friday, the actor-director says that the pre-production work of Kantara 2 is progressing and they are planning to release the film in 2024.
On the occasion of actor's birthday, his wife Pragathi started a foundation and Rishab attended this event. The actor expresses his gratitude to fans, friends and wife Pragathi Shetty and Pramod Shetty. He said "A young boy from a small village, had a dream of entering the film industry, and you have proven that he can find a place in your hearts.
He added "With the love shown by Kannadigas for the movie "Kantara," it has now become a global film. Therefore, I have been eagerly waiting for a long time to express my gratitude to all of you. Today, on the occasion of my birthday, it has finally come to fruition'.
"Iam deeply touched by the fans who, waited in the rain just to catch a glimpse of me. Their unwavering support is a testament to their love, which I will carry with me until my last breath", he said.
Wife Pragathi Shetty announced the establishment of the "Rishab Shetty Foundation" on this special day, which will serve as a reminder of the importance of education and support. "This is not a gift, it's a service because my husband dislikes gifts", she said.
Pramod Shetty said, "For many years, Rishab has helping cause of Government schools in Karntaka, but he never disclosed to media." He praised Rishab's commitment to taking responsibility for government schools.
The tiger dance and the Chade program added more excitement to the event. Rishab dedicated the success of "Kantara" to Kannadigas.